MAGIC1 Rugged Display Computer
High TRL system combines CPU, GPU
We recommend the following alternative solutions: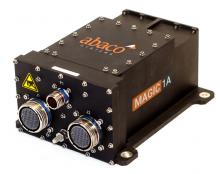 The MAGIC1A is a rugged line replaceable unit (LRU) suitable for high-performance computing in the harshest of environments.
Learn More
Overview
Effectively manage sensor data overload
There is ever greater demand for on-platform capabilities to handle the vast quantity of sensor-generated data and turn it into actionable intelligence. The rugged small form factor MAGIC1 display computer combines state-of-the-art CPU technology with the latest graphics processing units (GPUs) to deliver unprecedented levels of performance for such rugged applications. Where the platform is unmanned, the ability to provide a higher level of intelligence and autonomy to the platform can lead to increased mission capability, and reduce operator overload by presenting only relevant information for human-in-the-loop processing.
Accelerated time to market, time to action
To bring sophisticated data processing and analysis applications to market quickly, environments such as CUDA™, OpenCL™ and MATLAB® are available for application development. This support extends the capabilities of rugged mobile platforms and provides timely, actionable intelligence.
Expertise equals success
Providing graphics solutions to the military/defense and industrial markets for more than 20 years, Abaco Systems understands in image processing, video and graphics, and has subject matter experts to assist customers in choosing the right solution for any environment, whether in a laboratory or for deployment where shock, vibration, and high operating temperature are threats to reliability.
Specifications
Form Factor
3U Boxed, VPX 3U
Processor
4th Gen. Intel Core i7 quad-core up to 2.4 GHz, NVIDIA EXK107 384-core GPU
Maximum Memory
8 GB DDR3 SDRAM
I/O
Audio, DVI, Gigabit Ethernet, Keyboard and Mouse, Serial, SSD, USB, VGA
Extended Temperature Range
Yes
Environmental
Level 4-5 Conduction Cooled
Maximum Storage
Up to 256 GBytes
Ruggedization
Level 4-5 Conduction Cooled

Intel ISA

OpenVPX Logo
GPGPU
For the most demanding applications in SWaP-constrained platforms, you can benefit from Abaco being NVIDIA's preferred provider of GPU technology into harsh environments.
SWaP
Minimizing size, weight and power is one of the biggest challenges our customers face. That's why we prioritize it in all our product designs.