IPN251 Intel/NVIDIA Multiprocessor
Rugged 6U OpenVPX multiprocessor module combining NVIDIA Kepler GPU with the 3rd Generation Intel Core i7 CPU
We recommend the following alternative solutions: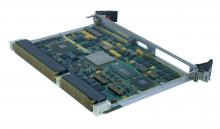 Multiprocessors deliver exceptional performance, reduce network-dependence, expand sensor capability, and minimize time-to-market
Learn More
Overview
Performance, functionality in less space
Provides more functionality within a constrained SWaP envelope
Allows more on-board processing
The IPN251 multiprocessor delivers outstanding computing performance in a wide range of demanding data-intensive applications by combining 384-core NVIDIA® Kepler™ GPGPU technology with a 3rd generation Intel® Core™ i7 quad core processor. The massively parallel nature of GPGPU technology allows larger numbers of more sophisticated algorithms to be processed in a single chassis slot versus multiple slots.
Reduces time-to-market and time-to-revenue
The 6U OpenVPX form factor IPN251 allows development time to be significantly reduced by using open, industry hardware and software standards. Software support includes: Software BIOS; Linux®; Windows®; NVIDIA CUDA, OpenCL, OpenGL; AXISLib-VSIPL Math & DSP libraries; NVIDIA PhysX, MATLAB™
Simplification with true benefit
Using NVIDIA's GPUDirect, data from external sources can be streamed directly into GPU memory without the burden of multiple copy operations through system memory, resulting in significantly lower latency and higher throughput. Data sources may be PCI Express™ or InfiniBand® end-points.
Specifications
Processor
3rd Gen. Intel Core i7 dual/quad-core up to 2.5 GHz, NVIDIA EXK107 384-core GPU
Maximum Memory
Up to 16 GB DDR3 SDRAM
I/O
10Gb Ethernet(fibre), Audio, DVI, Gigabit Ethernet, GPIO, RS-170, SATA, Serial, USB, VGA
Application
Video & Graphics
Cooling
Air, Conduction, Air flow-through VITA 48.5
Chip Set
NVIDIA EXK107 GPU
Ethernet
1000BaseT/1000BaseBX
Extended Temperature Range
Yes
Fabric Interface
PCIe, 10GigE, GbE
Control Plane
1000BASE-T / 1000BASE-BX
Data Plane
10GigE/InfiniBand
Memory
2048/256 MB, 4 GB, Up to 16 GB
Ruggedization
Level 1-5 Air, Conduction Cooled

Intel ISA

OpenVPX Logo
GPGPU
For the most demanding applications in SWaP-constrained platforms, you can benefit from Abaco being NVIDIA's preferred provider of GPU technology into harsh environments.
High Performance Embedded Computing
Combining open systems architectures with leading commercial and GPGPU processors delivers the performance, scalability and interoperability your most demanding applications need.
Board Support
Highly flexible and configurable to deliver the optimum balance of coverage vs. boot time, our in-house expertise enables us to provide program-specific functionality.