ICS-1620 DAC
PCI Express x4 16-channel module
We recommend the following alternative solutions: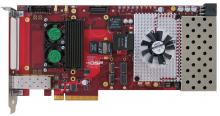 The PC821, featuring a Virtex or Kintex UltraScale FPGA and two FMC sites, provides advanced DSP capabilities with multiple I/O options using Abaco's large portfolio of FMCs.
Learn More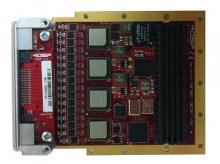 The FMC216 provides 16 D/A 16-bit 312.5Msps channels which can be sampled by an internal clock source (optionally locked to an external reference) or an externally supplied sample clock.
Learn More
Overview
High frequency DAC for demanding sonar application
High frequency generation allows for transmit pulses suitable for small targets
Board-board synchronization facilitates high channel count systems
Short form PCI Express™ form factor enables compact, lightweight solution
Designed to work together
The ICS-1620 has been designed to work seamlessly with the Abaco Systems ICS-1640 high speed analog to digital converter card which allows sonar system integrators to easily develop a fully synchronized transmit and receive application.
Compact and well suited for SWaP constrained environment
Short form factor PCI Express x4 card, making it extremely compact and well suited to size- and weight-constrained environments such as unmanned vehicles. The ICS-1620 features 16-channel, 2.5 MHz 16-bit resolution DAC capability, and offers a higher output signal bandwidth than can be achieved with boards using commercially available delta-sigma DACs.
Specifications
Max. Sampling/Conversion Frequency
2.5 MHz/ch.
Accessories
ICS-1620-SDK-WIN - Software device drivers for Windows operating system
ICS-1620-SDK-LX - Software device drivers for Linux operating system
CN-P44-M - Mating connector
CBL-1285 - Single ended analog output cable for ICS-1620 (length up to 100cm)
CBL-1286 - Differential analog output cable for ICS-1620 (length up to 100cm)