SDR430
Electronic Warfare Development Platform enables rapid development and deployment of counter attacks at significantly reduced time and cost.
Abaco Systems and AMERGINT Technologies have partnered to develop an Electronic Warfare Development Platform: SDR430. This development platform comprises the latest open architecture digital signal processing hardware from Abaco combined with the SOFTLINK™ modular communications architecture from AMERGINT Technologies.
This unique capability is a platform designed to help developers combat emerging Electronic Warfare threats faster and at lower cost. With its flexibility - derived from the modular software architecture combined with multi-channel, high bandwidth and powerful processing capabilities - the SDR430 is an enabler for cognitive electronic warfare.
Specifications
Form Factor
1U Development Kit, VPX 3U
Application
Development, Lab, Simulation, Test
FPGA Family
Zynq Ultrascale+ RFSoC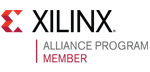 XILINX
Digital Signal Processing
Build an electronic warfare solution from the largest FMC portfolio on the market and leading edge DSP boards that are modular, minimize latency and come with built in security features—all built on open standards.