IPN250 Multiprocessor
6U OpenVPX multiprocessor with GPU, CPU.
We recommend the following alternative solutions: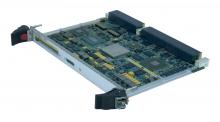 The IPN251 combines the best of GPU and CPU processing technology to deliver outstanding computing performance.
Learn More
Overview
High resolution mission critical data more rapidly
The IPN250 combines NVIDIA's GT240 96-core GPU with an Intel® Core™2 Duo to deliver up to 390 GFLOPS of performance per card slot. The VITA 48 / REDI-compliant IPN250 provides a computationally-dense platform for demanding applications that are deployed in the harshest environments and are constrained in terms of size, weight and power (SWaP).
Minimize cost, risk, and time to market
The IPN250 GPGPU platform allows customers to leverage the growing ecosystem of software programmers creating high performance computing applications in standard development environments such as CUDA, OpenCL, OpenGL and MATLAB. By utilizing applications developed on Intel-and NVIDIA-enabled PCs, the IPN250 reduces cost and risk to schedules and shortens time to deployment.
Specifications
Processor
Intel Core 2 Duo @ 2.26 GHz, NVIDIA GT240 96-core GPU
Maximum Memory
4 GB DDR3 SDRAM
I/O
DVI/HDMI/VGA, GbE, PCIe, USB, SATA, GPIO, Audio, TV Input, Serial
Application
Video & Graphics
Cooling
Air, Conduction, Spray
Chip Set
NVIDIA GT 240 CUDA-Capable GPU
Ethernet
1000BaseT/1000BaseBX
Extended Temperature Range
Yes
Fabric Interface
PCIe, 10GigE, GbE
Control Plane
1000BASE-T / 1000BASE-BX
Management Plane
BMM (Baseboard Man. Module)
Ruggedization
Level 1-2 Air Cooled
Accessories
Front panel cable - GbE & 2 Com Ports
6U 1.6" Pitch rear transition module assembly
6U 0.4" Pitch blanking plate
1M PCI Express cable
50cm PCI Express cable
CPU BIOS maintenance agreement
Renewal CPU BIOS maintenance agreement
FABRTMP1 - Fabric Rear Transition Module (RTM)

Intel ISA

OpenVPX Logo