XVB601
XVB601 - Intel Core i7 Based VME SBC provides high performance computing to rugged computing applications
We recommend the following alternative solutions: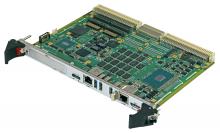 Meet the computing needs of demanding industrial applications with a 6U VME Intel-based embedded computer
Learn More
Overview
See XVB602 VME Single Board Computer as our recommended replacement product.
The XVB601 VME Single Board Computer (SBC) from Abaco Systems features the highly integrated Core i7 processor platform from Intel. Core i7 offers integrated graphics and memory controller plus dual core processing up to 2.53 GHz. Coupled with the Mobile Intel QM57 Express Chipset this provides an unmatched level of I/O bandwidth for both on-board and off-board functions.
Features of the XVB601 VME SBC's Core i7 processor:
• Intel Intelligent Power Technology allows processors to operate at optimal frequency and power
• Intelligent performance on-demand with Intel Turbo Boost Technology
• Multi-level shared cache improves performance and efficiency by reducing latency to frequently used data
• Hyper-Thread Technology – 2 threads per core
• Streaming SIMD extensions 4.1/4.2
The XVB601 offers two on-board mezzanine expansion sites for enhanced system flexibility, one of which is PMC/XMC capable and one of which is PMC only.
The XVB601 VME SBC provides further customer defined I/O capabilities with the board-to-board connector for the EXP237 XMC/PMC carrier/IO expansion board, which offers customers three additional PCI-X XMC/PMC expansion sites to utilize.
6U VME SBC

Intel Core i7 Processor up to 2.53 GHz

Up to 8 GB soldered DDR3 SDRAM with ECC

Mobile Intel QM57 chipset

2x on-board Expansion sites

2x Gigabit Ethernet

Extended op. temperature
Specifications
Processor
Intel Core i7 up to 2.53 GHz
Maximum Memory
8 GB DDR3 SDRAM with ECC
Transition Modules
ACC-0627
Bus Interface Chip
Tundra Tsi148
Ethernet
Gigabit Ethernet
Ruggedization
Level 1 Std. Air Cooled
Accessories
ACC-0627-000000 - Rear Transition Module (RTM) with P0 designed to transition the XVB601 I/O signals from the VME P2 and optional P0 to standard I/O connectors.
ACC-0627-100000 - Rear Transition Module (RTM) without P0 designed to transition the XVB601 I/O signals from the VME P2 to standard I/O connectors.
EXP237-300000 - VME SBC Carrier Card to offer three additional XMC/PMC expansion sites via an on-board x8 connector.

PLM Program
Product Lifecycle Management
All our products are designed to be supported over the multi-year – multi-decade, even – lifetime of the typical program. Whether for technology insertion or obsolescence management, we're with you for the long haul.
Board Support
Highly flexible and configurable to deliver the optimum balance of coverage vs. boot time, our in-house expertise enables us to provide program-specific functionality.