SBC325 3U VPX SBC
Rugged single board computer featuring an Intel® Core™ i7 processor
We recommend the following alternative solutions: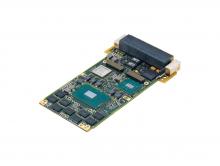 Rugged single board computer featuring Intel's latest 'Kaby Lake' processor.
Learn More
Overview
Full performance at more elevated temperatures
The VPXcel3 SBC325 rugged single board computer is based on the highly integrated 3rd Generation Intel® Core™ i7 processor platform. It brings up to 15% (compute) and 50% (3D graphics) performance improvement over the previous generation to customers using the 3U VPX form factor to develop and deploy demanding industrial and mil/aero applications such as command/control, ISR, radar, sonar and signal processing.
Exceptionally versatile platform
Provision of either a mezzanine XMC/PMC site for optimum flexibility and expandability or a quad fat-pipe (x16 PCI Express™) for highest performance connectivity to GPGPUs makes the SBC325 suitable for a wide range of High Performance Embedded Computing (HPEC) applications.
Rugged from the beginning
Designed to meet the requirements of a wide range of applications, the SBC325 is available in five build levels, from benign (air cooled) to fully rugged (conduction cooled) to provide customers with optimum price/performance.
Specifications
Processor
3rd Gen. Intel Core i7 dual/quad-core up to 2.5 GHz
Maximum Memory
8 GB DDR3 SDRAM with ECC
Management Plane
BMM (Baseboard Man. Module)
Ruggedization
Level 1-5 Air, Conduction Cooled
Accessories
SBC340RTM-11 - Rear Transition Module

Intel ISA

OpenVPX Logo
10 SBC questions to ask
Not all single board computers are created equal. Find out more about how your current supplier's offering compares with Abaco's.
SWaP
Minimizing size, weight and power is one of the biggest challenges our customers face. That's why we prioritize it in all our product designs.
Development Systems and Chassis
Our chassis provide you with cost-effective housing for our products – whether your specification calls for a standalone or expansion system.