Overview
Abaco Systems' Intelligent Vehicle Display family is built around a core video processing architecture with low power and high performance computing capability, providing the capabilities required by military land vehicles. The IVD2015 incorporates a 15" 1024x768 XGA LCD display with exceptional uniformity across the display. High intensity LED backlighting provides sunlight readability.  A 5-wire resistive touchscreen allows for optimum usability and durability.
The IVD's display glass is toughened to withstand the rigors of in-vehicle use, and incorporates filters for MIL-STD-3009 NVIS compatibility. The complete display stack is laminated using a controlled process for highest optical quality and durability. The IVD2015 has 30 bezel keys whose function may be assigned by the application software, together with 2 fixed function buttons; on/off, brightness up/down, night vision mode.
The Intelligent Vehicle Display has four simultaneous video inputs. Each of these video inputs can be optionally scaled to create thumbnails or full-screen images, or to mirror the video input, e.g. for viewing rear-mounted cameras. The IVD2015 brings incoming video into the GPU allowing picture-in-picture and symbology overlay on all of the video inputs, simultaneously if necessary, together with the ability to stitch multiple videos into a single panorama. 
In addition to the analog video inputs, the IVD2015 has two ports of 10 Gigabit Ethernet allowing it to be connected directly to the video backbone of the vehicle, and thus able to subscribe directly to multiple video channels, for example in situational awareness applications.
The computing node for the IVD line is comprised of the Penryn Core2 Duo processor together with an Intel GM45 and an NVIDIA GT 240 GPU. The IVD2015 is capable of generating two separate video graphics channels. The combination of Intel Penryn Core2 Duo and NVIDIA GT 240 offers very attractive performance and power efficiency, and a balance can be struck by derating the GPU clocks if necessary.
The IVD2015 can be built with one of a range to Core2 Duo processors to match application requirements and limit power dissipation, and with up to 4 GBytes of system memory. Connecting to the GPU via 16-lane PCI Express, this gives maximum bandwidth for demanding graphics applications. In addition to outstanding graphics performance, the NVIDIA GT 240 includes several key technologies, including PhysX and CUDA.
NVIDIA PhysX® is a powerful physics engine enabling real-time physics in 3D applications. PhysX is optimized for hardware acceleration by the GPU providing an exponential increase in physics processing power taking gaming physics to the next level for simulations, such as embedded training. CUDA is NVIDIA's parallel computing architecture that enables dramatic increases in computing performance by harnessing the power of the GPU for general purpose computation, enabling a range of capabilities such as IED detection processing, and line of sight calculation for navigation planning.
15" rugged touchscreen LCD display

XGA, 1024x768 @ 60 Hz
8-bit color depth display
MIL-STD-3009 NVIS compatibility
Multi-touch resistive touchscreen
Portrait mounting option available

Low power, high performance graphics computer

Intel Core2 Duo @ 2.26 GHz
4 GB DDR3 SDRAM
8 GB Flash
Optional 64 to 256 GB encrypted Flash
96-core NVIDIA GT 240 GPU

Multiple simultaneous video inputsFour
Slave display option

DVI output to drive slave display
May clone internal LCD output, or be independent

Comprehensive I/O

Two Gigabit Ethernet channels
Two serial RS-232 channels
Two USB 2.0 channels
Stereo line-in, stereo line-out
Optional two ports 10 Gigabit Ethernet fiber, 10GBASE-SR
Optional CANbus / MilCAN
Optional MIL-STD-1553
Specifications
I/O
10Gb Ethernet(fibre), Audio, CANbus, Gigabit Ethernet, MIL-STD-1553, Serial, USB
Maximum Memory
4 GB DDR3 SDRAM
Processor
NVIDIA GT240 96-core GPU
Ruggedization
Extended temperature
Request A Quote
IVD2015 Intelligent Vehicle Display
Featuring Intel Core 2 Duo and NVIDIA GPGPU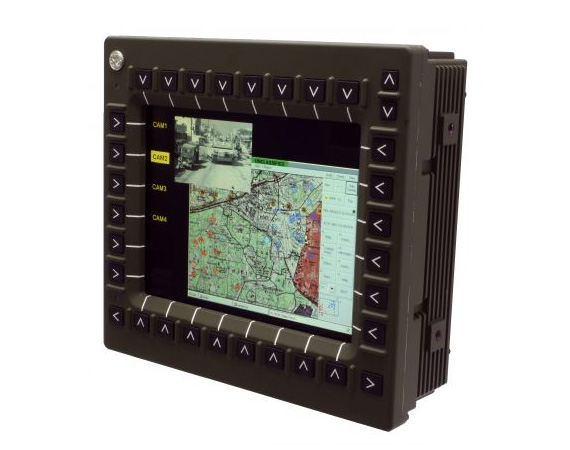 Contact An Expert
Looking for help with
IVD2015 Intelligent Vehicle Display
Featuring Intel Core 2 Duo and NVIDIA GPGPU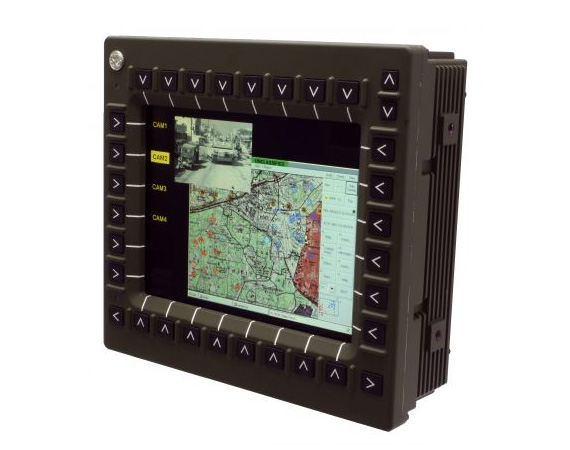 Get Support
Looking for help with
IVD2015 Intelligent Vehicle Display
Featuring Intel Core 2 Duo and NVIDIA GPGPU