CM4R 3U CompactPCI SBC
Single slot Power Architecture 3U CPCI embedded computer
We recommend the following alternative solutions: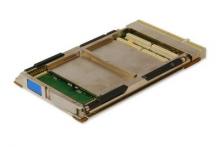 Increase application computing performance with a rugged 3U CompactPCI single board computer with QorIQ™ processor
Learn More
Overview
Reliable form factor
Continuing the long and reliable service expected from the CompactPCI form factor, Abaco Systems' CM4R rugged 3U Power Architecture-based single board computer is ideal for military and aerospace applications where size and power consumption are key requirements. The CM4R is capable of operating as either a CompactPCI system controller or peripheral card.
Flexible configuration
The ultra-compact single-slot, all-in-one design offers increased flexibility with multiple processor and RAM configuration options, and an array of on-board peripherals including Fast Ethernet and digital I/O.
Abaco Systems Rugged
Abaco Systems' CM4R addresses rugged and military applications with conduction cooling that extends the operating temperature range to -40 to +85C. With increased shock and vibration immunity, using stiffener bars, wedge locks, and conformal coating for high humidity environments, the CM4R can be configured to handle the most demanding environments.
Specifications
Maximum Memory
Up to 256 MB SDRAM with ECC
Transition Modules
CM4-TM
Bus Interface Chip
PLX 6254
Other
5-bits discrete TTL IO w/ interrupt, AXISLib Support
Ruggedization
Level 1-5 Air, Conduction Cooled
Accessories
Last-Time-Buy Announced July 15, 2015 for the CM4RTM-000 - Transition Module (TM) is a companion board to the CM4R SBC that functions as a distribution point for PMC I/O, serial, Ethernet, and digital I/O signals from the CM4R SBC. The module is available in two configurations: one with a rear panel installed and one without a rear panel. The CM4RTM rear panel contains a RJ-45 Ethernet connector, a DB9 COM1 serial connector and a manual reset switch. The CM4RTM does not include any active components. All signals are routed through the cPCI connector (J2).
Replacement transition module: CPCI3UX606-11 - Module is a customized interface adapter, compatible with 3U CompactPCI backplanes. It fits directly onto the rear P2 position of the backplane and is suitable for interconnection with the PowerPact IMP3A host card.

PLM Program