CEI-520A
ARINC 429 Interface for PCI
We recommend the following alternative solutions: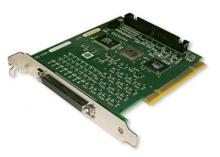 RCEI-530 ROHS ARINC Interface for PCI, 32-channel, integrated databus functionality for ARINC 429, ARINC 575 and selected 2-wire, 32-bit protocols.
Learn More
Overview
The intelligent CEI-520A provide complete, integrated databus functionality for ARINC 429 and related avionics protocols. The CEI-520/520A supports maximum data throughput on all channels while providing on-board message scheduling, label filtering, multiple buffering options, time-tagging, error injection/detection and avionics-level I/O discretes. Programmable receive level thresholds, adjustable transmit output voltages, and ruggedized configurations with extended operating temperatures are optional. Support for other 2-wire avionics protocols including ARINC 419, 561, 571, 573, 575, 582, 717, and CSDB is available. CEI-520 is no longer available.
Advanced, high-level software API included for Windows, Linux, and VxWorks
Includes C/C++, C#.NET, Visual Basic (VB6 and VB.NET), VxWorks, and LabWindows/CVI sample programs
Intelligent interface with large buffers
Easy-to use BusTools/ARINC Windows-based GUI Bus Analyzer available
ARINC 419, 561, 571, 573, 575, 582, 717, and CSDB is available.
Up to 16 Receive and 16 Transmit ARINC 429 Channels
Specifications
Application
Lab, Simulation, Test

ARINC