ADEPT64 Automatic Video Tracker
ADEPT64 6U PCI bus Video Tracker
We recommend the following alternative solutions: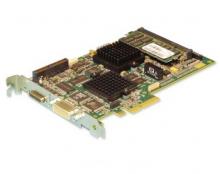 Turn sensor data into high resolution digital imagery in real time to detect and track multiple targets.
Learn More
Overview
The ADEPT64 is a full-featured PCI format automatic video tracker and image processor. It maintains software compatibility with the entire line and has the powerful processing capability of our latest designs. This card is particularly well suited to evaluation, simulation, training and range instrumentation applications.
The ADEPT64 is capable of multiple operating modes. Pre-processors using advanced image processing algorithms are followed by tracking algorithms which include centroid, edge, multiple target track, phase correlation, combined and SceneLock. It can also provide real-time electronic video stabilization using the SceneLock algorithm. The provision of a PMC site allows greater flexibility in the provision of additional input video formats and image processing functionality. This commercial off-the-shelf (COTS) card fits into any standard PC with a PCI bus. In common with other products in the ADEPT range, the ADEPT64 incorporates two axis PID platform drive filters and onboard serial links. Intuitive menu-driven PC software allows easy set-up and development.
Multiple algorithm capability including

multiple target detection and multiple

object track
Statistical target enhancement pre-processors

for high clutter rejection
Intelligent "Breaklock" and re-acquisition

algorithms
Platform drive filters
Onboard serial links
On board PMC interface
Composite video input / output
High speed digital video input
Symbology overlay
PCI full length card
PC control software
Specifications
Video Input
NTSC/RS170 and PAL/CCIR (50/60Hz)