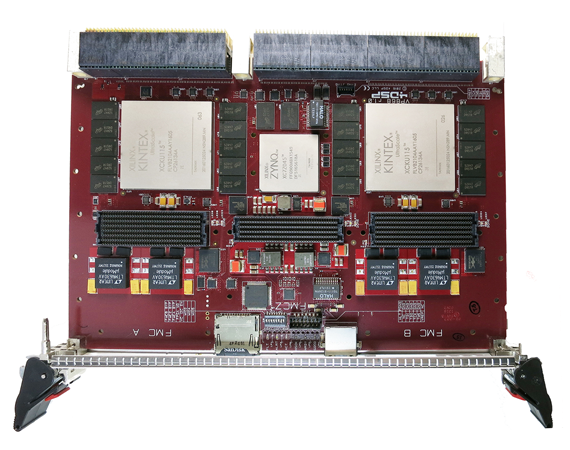 HUNTSVILLE, Ala.— May 1 2018 Abaco today announced that it had won a substantial initial order from a major European supplier to the defense industry.  The customer is under contract to supply tactical electronic warfare systems to one of the world's major armies. The order includes quantities of Abaco's VP868 high performance 6U OpenVPX plug-in modules with advanced digital signal processing capabilities, and Abaco's FMC134 FMC+ FPGA Mezzanine Card Direct RF Conversion Module, two of which will be mounted on each VP868.
Total long term value of the program to Abaco is estimated to be around $6 million.
The customer has also expressed interest in Abaco's recently-announced VP430 Direct RF Processing System, the first 3U VPX COTS solution to feature the all new Xilinx® ZU27DR RF system-on-chip (RFSoC) technology.
"Winning this order was a result of two significant Abaco strengths," said John Muller, Chief Growth Officer, Abaco Systems. "First, it demonstrates our rapidly-growing capability in the key technologies for electronic warfare – notably in digital signal processing and FPGA technology. Second, we were able to offer high quality, responsive local pre-sales support to help make the solution possible. These strengths gave us the advantage in a highly competitive bidding process."
The VP868 6U OpenVPX plug-in module with features a Xilinx Zynq® dual ARM-9 device for processing offload and board management. Its processing power comes from two Xilinx UltraScale™ FPGAs with over 100Gb/s duplex inter-chip communication bandwidth. The VP868 includes flexible I/O with two VITA 57.4 compliant FMC+ sites, and supports both Kintex™ and Virtex™ UltraScale devices with a migration path to UltraScale+™ devices. The module is ideal for applications requiring both high performance processing and I/O with the ability to scale from the lab to deployed rugged environments.
Responding to the accelerating trend towards wider bandwidth multi-channel receivers in modern radar systems, the FMC134 FMC+ FPGA Mezzanine Card Direct RF Conversion Module brings industry-leading ADC performance and density: the card can operate as a 4-channel receiver at 3.2GSPS or a 2-channel receiver at 6.4GSPS. Using 16 of the available 32 high speed JESD204B lanes, the FMC134 is capable of a total maximum transfer rate of 200 Gigabits/second. The FMC134 is ideally suited for applications including traditional and bi-static radar; multi-channel radar; digital beamforming; wideband receivers; wireless communication SDR; and signals intelligence receivers.
The VP430 Direct RF Processing System is one of the densest analog FPGA DSP boards available, with eight ADC and DAC synchronized channels, and features the ability to synchronize multiple boards for even larger system applications. Designed for advanced electronic warfare applications including MIMO (multiple input/output), beamforming, sensor processing and radar signal processing, the VP430 enables the use of fewer boards and much less power while delivering increased processing throughput. In fact, for comparable capability, it occupies one fourth of the slots that earlier generation solutions would require.
About Abaco Systems
With more than 30 years' experience, Abaco Systems is a global leader in open architecture computing and electronic systems for aerospace, defense and industrial applications. We create innovative, modular solutions based on open standards that are characterized by outstanding price/performance, ultimate rugged reliability and minimal SWaP. Our goal is to be a significant contributor to our customers' success, partnering with them to reduce cost, time-to-deployment and risk and supporting them over the long term.  With an active presence in hundreds of national asset platforms on land, sea and in the air, Abaco Systems is trusted where it matters most. www.abaco.com
For more information, contact:
Ian McMurray
Communications Manager
Abaco Systems
Xilinx and Zynq are registered trademarks, and UltraScale, Ultrascale+, Kintex and Virtex are trademarks, of Xilinx, Inc. ARM is a registered trademark of ARM Limited. All other trademarks are the property of their respective owners.