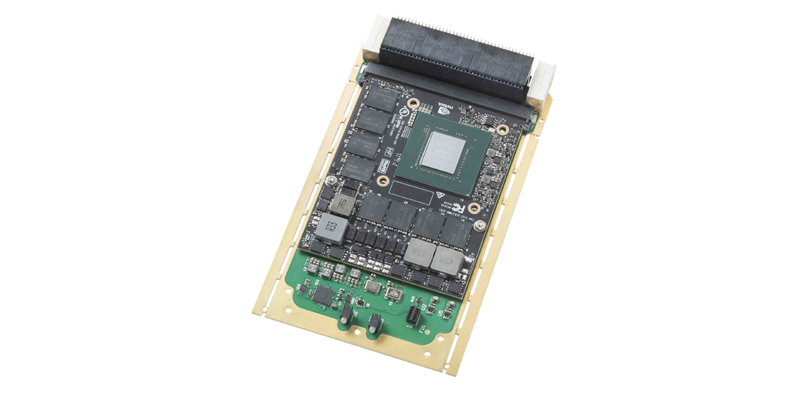 HUNTSVILLE, Ala.— November 27 2018 Abaco Systems today announced the rugged 3U VPX GR2 and GR4 video and graphics cards. Designed for military and defense applications as well as challenging commercial/industrial applications, both feature the newest generation NVIDIA® Pascal™ GPUs, enabling them to deliver up to 6.4 TeraFLOPS of performance and offer up to 4.5x the performance of their predecessor, Abaco's GRA113 video/graphics board.
The two new products are the first fruits of Abaco's previously announced collaboration with EIZO Rugged Solutions.
The GR4 features full video capture and output, while the GR2 provides a cost-effective alternative for customers only requiring video output. As well as graphics and video applications, both are ideal for GPGPU applications that can leverage the enormously parallel nature of the Pascal architecture, such as artificial intelligence, machine learning, autonomous systems and high performance embedded computing (HPEC) applications such as ISR, C4ISR and remote sensing/analysis.
A choice of processor is available for both the GR2 and GR4. For particularly challenging applications, the NVIDIA Quadro® P5000 with 16 GBytes of GDDR5 memory is capable of delivering up to 6.4 TeraFLOPS of throughput from 2,048 CUDA cores. For less demanding applications, or those where lower power consumption/heat dissipation is a priority, the NVIDIA Quadro P3000 with 6 GBytes of GDDR5 memory and 1,280 cores provides up to 3.9 TeraFLOPS of peak FP32 performance.
"These two new products bring NVIDIA's most advanced GPU technology to the Abaco product line-up, and provide our customers with outstanding performance potential for the most taxing applications – whether those are in graphics/video or GPGPU in high performance embedded computing applications," said Peter Thompson, Vice President, Product Management at Abaco Systems. "The flexibility they offer in enabling customers to choose the best fit for the proposed application and their combination of very high performance with the SWaP benefits of 3U VPX make them ideally suited for deployment in the most confined spaces."
The conduction-cooled GR4 supports PCI Express™ 3.0 (8- or 4- lane) and features four 3G-SDI video inputs/outputs and one DisplayPort™ output providing support for 4K resolution. Video encode/decode uses either the HEVC/H.265 or AVC/H.264 codec.
The GR2 includes two DisplayPort outputs from the rear P2 VPX connector, and supports PCI Express 3.0 (16-, 8- or 4- lane). It is available in either an air-cooled or conduction-cooled variant.
Both the GR4 and GR2 support CUDA™ and OpenCL™1.2 and are available with Windows® and Linux® drivers.
About Abaco Systems
With more than 30 years' experience, Abaco Systems is a global leader in open architecture computing and electronic systems for aerospace, defense and industrial applications. We create innovative, modular solutions based on open standards that are characterized by outstanding price/performance, ultimate rugged reliability and minimal SWaP. Our goal is to be a significant contributor to our customers' success, partnering with them to reduce cost, time-to-deployment and risk and supporting them over the long term.  With an active presence in hundreds of national asset platforms on land, sea and in the air, Abaco Systems is trusted where it matters most. www.abaco.com
For more information, contact:
Ian McMurray
Communications Manager
Abaco Systems
NVIDIA and Quadro are registered trademarks, and Pascal and CUDA are trademarks, of NVIDIA Corporation. Windows is a registered trademark of Microsoft Corporation. Linux is the registered trademark of Linus Torvalds. OpenCL is a trademark of the Khronos Group Inc.  DisplayPort is a trademark of the Video Electronics Standards Association (VESA). PCI Express is a registered trademark of PCI-SIG.  All other trademarks are the property of their respective owners.