We recommend the following alternative solutions: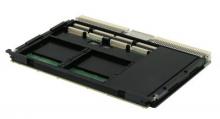 Meet the computing needs of demanding industrial and mil/aero applications with a 6U VME Intel based embedded computer
Learn More
Overview
A VME Intel Pentium M Processor based, air or conduction cooled, single board computer with dual PMC sites, the VR9 is compliant to ANSI/VITA 20-2001. The VR9 provides a unique feature set that offers a high level of functional integration. The VGA/TFT, Gigabit Ethernet and serial interfaces all within a single slot and the freedom to use the PMC interfaces makes this a highly-configurable robust solution for many rugged applications requiring a powerful VME computer.
RoHS compliant with version 3.x
VITA 31.1 compliant
256-bit 3D and 2D graphics accelerator
Two Gigabit Ethernet ports 10/100/1000BaseT front or rear panel optional
Intel Pentium M Processor , 1 GHz to 1.8 GHz
Specifications
Maximum Memory
Up to 2 GB DDR SDRAM with ECC
Bus Interface Chip
Tundra Universe IID
Ethernet
Gigabit Ethernet
Ruggedization
Level 1-5 Air, Conduction Cooled