SBC341 3U OpenVPX SBC
Rugged single board computer featuring Intel® Core™ 2 Duo processor
We recommend the following alternative solutions: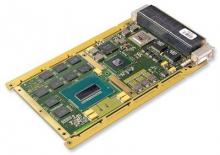 Upgrade processing speed with a rugged 3U OpenVPX SBC featuring 4th Generation Intel Core i7 ('Haswell') technology
Learn More
Overview
Delivers performance and energy efficiency
The VPXcel3 SBC341 3U VPX single board computer, based on the Intel® Core™ 2 Duo (Penryn) processor, features a 13% higher clock speed and a 20% lower TDP than its forerunner, the SBC340. It also features 50% more on-cache memory and a 50% faster front side bus for even more significant performance gains.
Sensitive to power dissipation
For demanding applications including sophisticated processing, communications and graphics, the SBC341 is alternatively available with the SL9400 1.86 GHz Core2 Duo processor with a TDP of just 17 watts.
Specifications
Processor
Intel Core 2 Duo @ 2.26 GHz
Maximum Memory
Up to 8 GB DDR3 SDRAM
Ruggedization
Level 1-5 Air, Conduction Cooled

Intel ISA

OpenVPX Logo
Product Lifecycle Management
All our products are designed to be supported over the multi-year – multi-decade, even – lifetime of the typical program. Whether for technology insertion or obsolescence management, we're with you for the long haul.
SWaP
Minimizing size, weight and power is one of the biggest challenges our customers face. That's why we prioritize it in all our product designs.