RAR15XC Flight-Certifiable Avionics Interface
Dual Protocol XMC for MIL-STD-1553, ARINC 429, and avionics discretes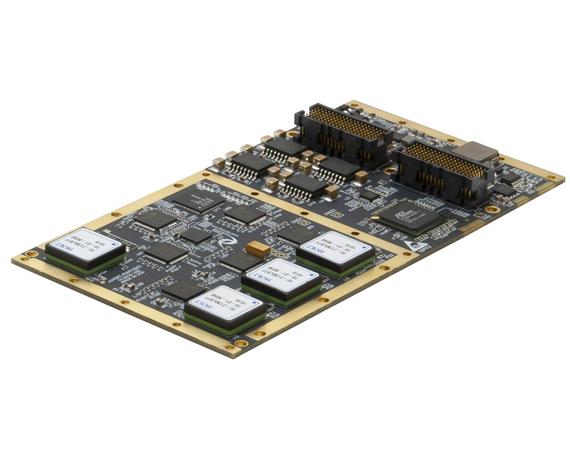 Overview
Certifiable communications simplified
The RAR15XC flight-certifiable avionics communications board delivers high-density MIL-STD-1553 and ARINC 429 data bus communications as well as avionics discrete I/O. Its small XMC mezzanine form factor is easily integrated onto other compatible boards, like the SBC314C flight-certifiable single board computer.
The RAR15XC is pin-compatible with the RAR15X and provides operational capability for full integration into aircraft systems. It is engineered to meet the demands of the most safety-critical applications and provides high-level functionality to reduce the complexity of the application programming.
Big function, small space
MIL-STD-1553 standard features include 48-bit receive message time tagging, extensive BC & RT link-list structures, error detection, automatic/manual RT Status Bit and Mode Code responses, along with advanced BC functionality.
ARINC 429 standard features include independent 64 message transmit and receive buffers and a message scheduler providing flexibility in generating ARINC bus traffic scenarios.
Specifications
Form Factor
Mezzanine, XMC
I/O
ARINC 429, Discrete, MIL-STD-1553
Application
Rugged, Embedded
Extended Temperature Range
From -40° to +85°C
Channels
4 MIL-STD-1553, 10 ARINC receive, 4-8 ARINC transmit
Protocol
ARINC 429, MIL-STD-1553
Environmental
DO-254 Artefacts
Functional Safety
DO-178C, DO-254
Ruggedization
Extended temperature, Level 5 Rugged Conduction Cooled
Considering the Make vs. Buy Decision for Flight-Certifiable Embedded Electronics
Some aircraft designers and systems integrators already design computers in-house. For these companies, the question must be asked, just because you can, should you? Anything that distracts you from your core competencies could result in project overruns, delays or failure.
Safety Certification
To minimize your pain, Abaco has invested in board and sub-system artifacts for certification of flight systems up to DAL A.