NETernity™ RM941
NETernity Layer 2/3 unmanaged 6U VME 8-port 10/100BaseTX Ethernet switch with front I/O
We recommend the following alternative solutions: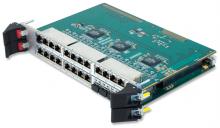 Designed to meet the low-cost requirements of unmanaged switch applications with support for multiple types of Ethernet media.
Learn More
Overview
NETernity™ RM941 is a fully integrated 8-port 6U VME 10/100BaseTX Ethernet switch designed to support the low-cost requirements of unmanaged switch applications and converging networks. The QoS technology allows low cost unmanaged switches to carry voice, and data traffic without having to compromise the quality of its voice traffic by using the packet prioritization scheme. Packets are prioritized based upon their Layer 2 VLAN priority tag or the Layer 3 Type-Of-Service/ Differentiated Services (TOS/DS) field. This priority can be defined as transmit and/or drop priority. The RM941 has no interface to the VMEbus (only power and ground). Customers can change the factory default port setting. The RM941 has a parallel port which can connect to a PC parallel port. The tool provided runs under Windows 98 and the setting is stored on non-volatile memory. The setting can take effect immediately or on the next power up.
Up to 8 port based VLANs
Provides both Full/Half duplex ports
Allows explicit identification of IP phone ports
Input ports are defined to be high or low priority
Provides port-based prioritization of packets on 4 ports
Enables mixed voice-data networks
Auto address learning and Auto address aging Leading edge QoS capabilities, based on 802.1p and IP TOS/DS field
1k MAC address table
Full wire speed Layer 2 switching on all ports
Front I/O
Single slot 6U VMEbus
8 auto-negotiating 10/100BaseTX Ethernet Ports
Flow Control capabilities including back pressure for half-duplex and 802.3x flow control for full-duplex
Industrial temperature version available
Not recommended for new designs -- see NETernity RM981RC for new designs
Specifications
Management Type
Unmanaged Layer-2