NETernity™ CP982RC
PICMG 2.16 6U CompactPCI 24-Port Managed Layer-2 Gigabit Ethernet Switch with OpenWare™ Lite
We recommend the following alternative solutions: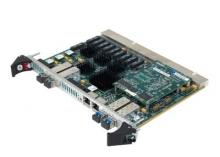 A fully managed Layer 2/3+ Ethernet switch supporting IPv6 switching and routing with extensive switch management capabilities.
Learn More
Overview
NETernity™ CP982RC is a 24-port Managed Layer 2 Gigabit Ethernet embedded switch offering full L2 wire speed switching and routing, and control and monitoring capabilities. Designed to meet the needs of a wide range of applications such as networked Telecom, Industrial and Mil/AERO systems, the 6U CompactPCI (CPCI) form factor CP982RC facilitates communications within a chassis as well as supporting the network outside the chassis. It is PICMG 2.16 and RoHS compliant, and supports high-availability hot swap. This switch has 24 10/100/1000BaseT (copper) ports routed to rear I/O. Versions of the switch are also available with 22 10/100/1000BaseT ports routed to the rear and two Gigabit Ethernet ports routed through the front panel. The front accessible interfaces may be 10/100/1000BaseT, 1000BaseSX or 1000BaseLX. Conformal coating is optional.
6U CompactPCI form factor
24-port Gigabit Ethernet switch
Managed Layer 2 solution
Control & monitoring capabilities via local or remote access
On-board management processor
L-2 switching at wire speed
High-availability hot swap
OpenWare Lite Switch Management Environment
Supports Virtual LANs (VLANs)
Supports Rapid Spanning Tree Protocol (RSTP)
Port Mirroring support
Trunking or manual link aggregation
SNMP support
Specifications
Port Type
10/100/1000BaseT
Management Type
Managed Layer-2
Accessories
TRCP9XX-5RC 5-port rear transition module TRCP9XXRC 24-port rear transition module TRCP9XX-12 12-port rear transition module