NETernity™ CP6-GESW24M3
NETernity 6U CPCI 24-Port Fully Managed Layer-2/3+ Gigabit Ethernet Switch with Air Cooling
We recommend the following alternative solutions: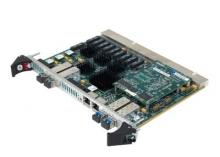 A fully managed Layer 2/3+ Ethernet switch supporting IPv6 switching and routing with extensive switch management capabilities.
Learn More
Overview
NETernity™ CP6-GESW24M3 is a 24-port Fully Managed Layer-3 and Layer-3 Gigabit Ethernet switch offering cost-effective high-speed network connectivity for commercial applications. This switch is PICMG 2.16 compliant and can function function either as a fabric board or a node board. When used as a node board, two ports are used to connect the switch board to dual fabric; the remaining 22 ports are routed to rear panel I/O. CP6-GESW24M3 in the standard configuration is air cooled and supports a commercial operating temperature range.
Management interface is through RS-232 (CLI, Telnet), off-band Ethernet (HTTP, SNMP), or in-band Ethernet (HTTP, SNMP)
Hot swap design
PICMG 2.9 IPMI interface
Complete Layer-2 & Layer-3 (routing) management
24-port 10/100/1000BaseT Ethernet line speed switching
Extensive Built-In Test (BIT)
Fully managed solution
Not recommended for new designs
Specifications
Port Type
10/100/1000BaseT
Management Type
Fully Managed Layer-2/3+