MIP3ES Miniature Image Stabilizer
Automatic image stabilization solution
We recommend the following alternative solutions: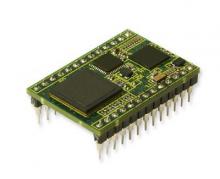 Improve performance and reduce cost by combining video tracking and image stabilization in a single device.
Learn More
Overview
See more clearly
Approximately the size of a microprocessor chip, Abaco Systems' MIP3ES automatic image stabilizer offers high performance stabilization of real-time video images with any standard definition analog video signal. The commercial off-the-shelf (COTS) MIP3ES operates as a standalone unit allowing great flexibility in board location, especially in platforms where size, weight and power consumption are severely constrained, such as in the cramped space of small unmanned aerial vehicles, video gimbals, and man portable devices.
Easy to configure and operate
The MIP3ES miniature image stabilizer incorporates on-board serial links allowing it to interface to most platforms and is designed for easy configuration and device control with intuitive web based interface.
Specifications
Control Interface
RS232 TTL
Video Input
CCIR, PAL or RS170, NTSC