IP-429HD
ARINC-429/575 High-Density IP Module
We recommend the following alternative solutions: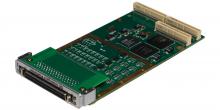 Provides complete, integrated databus functionality for ARINC 429, ARINC 575 and selected 2-wire, 32-bit protocols.
Learn More
Overview
The IP-429HD is an intelligent, high-density IP Module (IndustryPack-compatible) interface for ARINC related avionics protocols that provides up to 8 receive and 8 transmit, fully independent, ARINC 429 channels. Standard IP-429HD features include programmable selection of data rates, parity, on-board buffering modes, error detection and automatic slew rate adjustment.
High-level API for Windows XP and source code included
PCI and CompactPCI carriers available
Intelligent module with buffering
Up to 16 ARINC 429 channels
Support for LabVIEW
Specifications
Application
Lab, Simulation, Test

ARINC