ICS-8561
ICS-8561 Rugged 2-channel, 400 MHz DAC PMC digital transmitter module with Virtex-4 FPGA intended for Software Defined Radio (SDR) applications such as communications & radar in benign & hostile environments.
We recommend the following alternative solutions: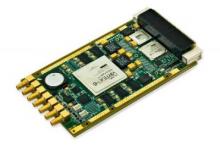 The SPR870A can be deployed in harsh environments for real-time processing in radar, ISR and other high performance applications.
Learn More
Overview
Designed for deployment in harsh and benign environments, the ICS-8561 is a rugged conduction-cooled 16-bit digital transmitter in PMC module format. It offers two channel operation with sampling frequencies of up to 400 MHz for Software Defined Radio (SDR) applications such as radar and tactical communications transmit. The combination of high performance FPGA and DAC resources allows base band signals to be processed, shifted to a selected radio frequency band at up to VHF frequencies and converted to analog form directly on the ICS-8560. Algorithms such as interpolation, beamforming, digital up conversion and modulation can be developed to execute in the onboard Xilinx Virtex-4 XC4VFX60, using the included Hardware Development Kit (HDK).
Suggested replacements are the:
SPR870A (VPX form factor)
ICS-1572A (XMC form factor)
** For systems which can only accomodate PMC cards, please contact your local sales representative for further information.
2 transformer-coupled analog outputs, 16-bit resolution
FS ≤ 200 MHz (Single Data Rate Mode)
Fs ≤ 400 MHz (Double Data Rate Mode)
Xilinx Virtex-4 FX60 FPGA with multiple IP cores (incl. SDR 200 MHz, DDR 400 MHz)
8-connector Samtex GRF1-J connector (Ruggedization Levels 1, 2 and 3)
8 individual MMCX connectors (Ruggedization Levels 4 and 5); Optional for Levels 1 - 3
Hardware Development Kit (HDK) included
VxWorks, Linux and Windows software drivers
Phased synchronized analog outputs
Specifications
Function
Transmitter (Analog Output)
Max. Sampling/Conversion Frequency
400 MHz/ch.
User Programmable FPGA
Virtex-4 XC4VFX60
Ruggedization
Level 1-5 Air, Conduction Cooled
Accessories
HDK-8561 - Hardware Development Kit (for FPGA code development)
ICS-8561-SDK-VXW - Software device driver for VxWorks operating system
ICS-8561-SDK-LX - Software device driver for Linux operating system
ICS-8561-SDK-WIN - Software device driver for Windows operating system
TECHNO-5012-F - PMC to PCI Carrier with fan
CBL-1230 - Mating connector/cable assemby for Samtec GRF1 connector
CB-1218 - Mating cable for a single discreet MMCX connector (8 per board)