ICS-8554D
Rugged 4-channel DC-coupled ADC PMC module for Software Defined Radio (SDR) applications. Provides a powerful base band signal processing capability by bundling substantial ADC, DDC, & FPGA resources in one PMC module.
We recommend the following alternative solutions: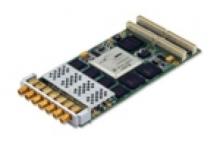 Achieve maximum signal processing capability with minimum power consumption in one small package.
Learn More
Overview
Designed for use in communications, radar and test and measurement applications in harsh environments, the ICS-8554D combines the best in ADC and DSP technologies to provide the ultimate advantage in size, performance and cost. Ideal applications for the product include military communications, signal intelligence, smart antenna, radar beam forming, wireless test and measurement and satellite ground stations.
The ICS-8554D DC-coupled digital receiver includes four 14-bit ADCs that sample synchronously at frequencies up to 105 MHz, two Graychip GC4016 quad digital down-conversion (DDC) modules for simultaneous down conversion of up to 8 arbitrary signal bands(e.g., 8 FDM signals) and a 3 Mgate Xilinx FPGA, providing a powerful capability for baseband signal processing. It offers two large FIFO buffers decoupled to support simulataneous wide and narrow band operation and a fast PCI 2.2 64-bit, 66 MHz DMA interface.
The ICS-8554D is available in five ruggedization levels conforming to the IEEE 1101.2-1992 standard, including both convection- and conduction-cooled options, and can be used with any suitable type of carrier card that will accept a PMC module, including VME, PCI and CompactPCI types. Level 4 and 5 conduction-cooled versions must be used with an appropriate conduction cooled carrier such as those made by Abaco Systems in VMEbus and CompactPCI formats.
Replacement product is the ICS-1555 (Levels 1-3 only)
4 DC-coupled ADC channels: 14-bits @ 105 MHz
2 GrayChip GC4016 DDC ASICs
3 Mgate Xilinx Virtex-II FPGA
2 MBytes FIFO buffer
66 MHz, 64-bit PCI 2.2 DMA interface
Pn4 user I/O supports LVTTL or LVDS signaling levels
Internal or external clock and trigger
Internal sample clock 100 MHz
>67 dB SNR and >80 dB SFDR
Multiple board syncrhonization
Windows, Linux and VxWorks device drivers
Extensive application and technical support available
Specifications
Function
Receiver (Analog Input)
Max. Sampling/Conversion Frequency
105 MHz/ch.
User Programmable FPGA
Virtex-II XC2V3000
Ruggedization
Level 1-5 Air, Conduction Cooled
Accessories
DRV-8554-WIN, DRV-8554-LX and DRV-8554-VXW - Software device drivers for Windows, Linux and VxWorks operating systems
HDK-8554 - Hardware Development Kit
CN-MMCX - Connector for Analog I/O, Clock, Trigger, and Sync (one per I/O)
TECHNO-5012-F - PMC to PCI Carrier
CBL-1218 - I/O Cables