ICS-8553
Rugged 4/2-channel, 1.5/3 GHz ADC XMC/PMC Module with Virtex-4 FPGA intended for Software Defined Radio (SDR) applications such as communications and radar in benign & hostile environments.
We recommend the following alternative solutions: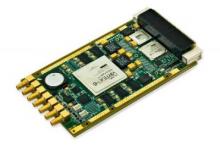 The SPR870A can be deployed in harsh environments for real-time processing in radar, ISR and other high performance applications.
Learn More
Overview
Designed for deployment in harsh and benign environments, the ICS-8553 is a rugged conduction-cooled 8-bit digital receiver in XMC/PMC module format. It offers both two and four channel operation with sampling frequencies at 1.5 GHz (four channel) or 3 GHz (two channel) for Software Defined Radio (SDR) applications such as spectrum monitoring, signal intelligence, tactical communications and radar.
The combination of high performance ADC and FPGA resources allows VHF and UHF signals to be digitized and processed directly on the ICS-8553. Algorithms such as digital down conversion, FFT, filtering and time stamping can be developed to execute in the onboard Xilinx Virtex-4 FPGA XC4VFX60, using the included hardware Development Kit (HDK).
4 Transformer-coupled analog inputs
FS < 1.5 GHz 4-channel, or 3 GHz 2-channel (software selectable), 8-bit
Xilinx Virtex-4 User Programmable FPGA FX60
TCXO @ 10 MHz
8 individual MMCX Coaxial Connectors
PCI 2.2 64-bit, 66 MHz Master/Target Burst Mode DMA capable
VITA 42 (XMC) high-speed serial interface (single connector, 8-lanes)
Pn4 LVDS or LVTTL signal levels
ANSI/VITA 20-2001 conduction-cooled PMC
VxWorks, Linux and Windows software drivers
Specifications
Function
Receiver (Analog Input)
Max. Sampling/Conversion Frequency
3 GHz/ch.
User Programmable FPGA
Virtex-4 XC4VFX60
Ruggedization
Level 1-5 Air, Conduction Cooled
Accessories
HDK-8553 - Hardware Development Kit
DRV-8553-VXW - Software Device Driver for VxWorks
DRV-8553-LX - Software Device Driver for Linux
DRV-8553-WIN - Software Device Driver for Windows
CBL-1230 - Mating connector/cable assembly for Samtec GRF1 connector
CN-1218 - Mating cable for a single discreet MMCX connector (8 per board)
TECHNO-5012-F - PMC to PCI Carrier with fan
ICS-7004A - Short PCI Express Carrier Card for one PMC Module