ICS-8552B
Rugged 2-channel IF receiver module with high stability TCXO bringing high performance Software Defined Radio (SDR) capabilities to portable applications such as man-packs. Includes ADC, DDC, & FPGA resources in one PMC module.
We recommend the following alternative solutions: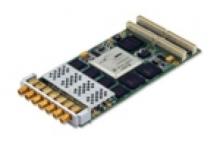 Achieve maximum signal processing capability with minimum power consumption in one small package.
Learn More
Overview
The ICS-8552B is a rugged IF receiver module delivering maximum functionality in a small package, bringing very high performance Software Defined Radio (SDR) capabilities to portable applications such as man-packs. A derivative of the highly successful ICS-554, but doubling the amount of FIFO storage and adding built-in test (BIT) capability, the ICS-8552B includes not only ADC, DDC, and FPGA resources in one PMC module, but also eliminates the need for auxiliary clock sources by including a 1 PPM TCXO on board. The ICS-8552B dual FIFO memory architecture supports simultaneous wideband and narrowband acquisition, which provides maximum flexibility for signal intelligence and spectrum monitoring missions. The ICS-8552B leverages Abaco Systems' unrivaled expertise in ruggedization, allowing maximum functionality to be maintained in the most demanding environments.
While substantial onboard processing resources let the DSP move to the data source, the ICS-8552B still provides the user with high bandwidth I/O for communication with host systems. The 64/66 PCI interface provides data rates in excess of 400 MBytes/second (true sustained aggregate rate), while the Pn4 user I/O port allows even higher data rates and elimination of interrupt latencies.
Approximately 95% of the Virtex-II FPGA is available for user applications, and Abaco Systems provides a complete hardware development kit (HDK) for the Xilinx ISE Foundation development environment, enabling system designers to efficiently develop new FPGA applications.
Two ADC channels (Texas Instruments ADS5424): 14-bits @ 105 MHz
Two GrayChip 4016 DDC ASICs
3M gate Xilinx Virtex-II FPGA
Simultaneous wideband and narrowband acquisition supported
1 PPM Temperature Compensated Crystal Oscillator (TCXO) onboard
Pn4 user I/O supports LVTTL or LVDS signaling levels
Windows, Linux and VxWorks device drivers
Extensive application and technical support available
Specifications
Function
Receiver (Analog Input)
Max. Sampling/Conversion Frequency
105 MHz/ch.
User Programmable FPGA
Virtex-II XC2V3000
Ruggedization
Level 1-5 Air, Conduction Cooled
Accessories
DRV-8552B-WIN, DRV-8552B-VXW and DRV-8552B-LX - Software device drivers for Windows, VxWorks and Linux operating systems
DRV-8552B-SCA - SCA Compliant Driver
TECHNO-5012-F - PMC to PCI Carrier
CN-MMCX - Connector for Analog I/O, Clock , Trigger, and Sync (one per I/O)
HDK-8552B - Hardware Development Kit
CBL-1218 - I/O Cables