ICS-572
2-channel, 105 MHz ADC & 2-channel, 200 MHz DAC PMC. Provides both receive & transmit capability for communications, signal intelligence, public safety, arbitrary waveform generation, radar & test and measurement applications.
We recommend the following alternative solutions: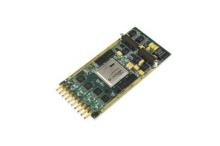 More compact solutions and higher throughput to the host memory, allowing to send higher bandwidth signals for downstream processing.
Learn More
Overview
Designed for both receive and transmit applications for radar and communications, the ICS-572 PMC module combines the best in 14-bit ADC and DAC technologies with a high density, high speed FPGA to provide industry-leading cost, size and performance. The ICS-572 includes two (2) 14-bit, 105 MHz ADCs, two (2) 14-bit, 200 MHz DACs, 4 or 6 million gate Xilinx FPGA, 64 MBytes SDRAM, 8 MBytes QDR-II SRAM, Pn4 User I/O and PCI 64/66 DMA interface. A 'no memory' version of the ICS-572 is also available (ICS-572D).
ICS-572 is ideally suited in high bandwidth communications applications that require both receive and transmit functions in a small footprint.
2-channel Software Radio
Up to 6 million gate Xilinx FPGA
14-bit ADC and DAC technologies
Receive and transmit on a single PMC
Sample rates: ADC 105 MHz, DAC 200 MHz
Pn4 user I/O PMC interface
Full 64-bit, 66 MHz PCI DMA interface
Optional configurations
Windows, Linux and VxWorks software device drivers
Extensive application and technical support available
Specifications
Function
Transceiver (Analog Input & Output)
Max. Sampling/Conversion Frequency
105 MHz/ch. (Rx), 200 MHz/ch (Tx)
User Programmable FPGA
Virtex-II XC2V6000
Ruggedization
Commercial (benign)
Accessories
DRV-572-WIN, DRV-572-LX and DRV-572-VXW - Software device drivers for Windows, Linux and VxWorks operating systems
HDK-572 - Hardware Development Kit
LIB-572-ML - MatLab Application Library
TECHNO-5012-F - PMC to PCI Carrier
ICS-7004A - Short PCI Express Carrier Card for one PMC Module
CN-SMA - Analog Input, Analog Output external Clock and Trigger
CBL-1138 - Analog Input/Output Cable
DRV-572-SCA - SCA Compliant Driver