Overview
Designed for communications, radar and test and measurement applications, the ICS-554 PMC card combines the best in ADC and DSP technologies to provide the ultimate advantage in size, performance and cost. The ICS-554 includes four 14-bit ADCs that sample synchronously at frequencies up to 105 MHz. It includes four Graychip GC4016 quad digital downconverters (tuner modules) for simultaneous down conversion of up to 16 arbitrary signal bands (e.g., 16 FDM signals). Following the tuners, a 1 Million Gate (ICS-554A or ICS-554B) or 3 Million Gate (ICS-554D or ICS-554E) Xilinx FPGA (that is virtually free for user coding) provides a powerful capability for baseband processing. The ICS-554 also offers onboard storage and a fast PCI 2.2 64-bit, 66 MHz DMA interface and an uncommitted Pn4 connector for direct data transfer. The ICS-554D and the ICS-554E support LVDS links over the P4.
The ICS-554 is ideally suited for applications in: Military Communications, 3G and 4G Cellular Base Station Development, Signal Intelligence, Smart Antenna, Radar Beam Forming, Wireless Test and Measurement and Satellite Ground Stations.
Available in 1, 2 or 4 channel versions with or without DDCs
Up to 105 MHz simultaneous sampling of all channels
Internal or external clock and trigger
> 72 dB signal-to-noise ratio
> 85 dB spurious free dynamic range
1 MByte onboard memory storage
User programmable 3 million gate Xilinx FPGA
Uncommitted Pn4 user I/O PMC interface
Specifications
Function
Receiver (Analog Input)
Max. Sampling/Conversion Frequency
105 MHz/ch.
Ruggedization
Commercial (benign)
User Programmable FPGA
Virtex-II XC2V1000
Request A Quote
ICS-554
4-channel, 105 MHz, ADC PMC Module with DDCs, Xilinx FPGA and PCI 64/66 Interface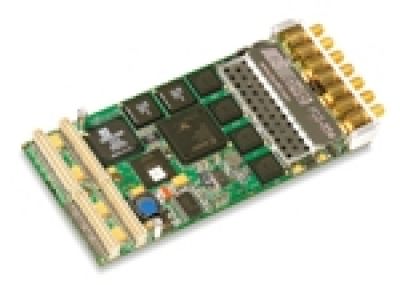 Contact An Expert
Looking for help with
ICS-554
4-channel, 105 MHz, ADC PMC Module with DDCs, Xilinx FPGA and PCI 64/66 Interface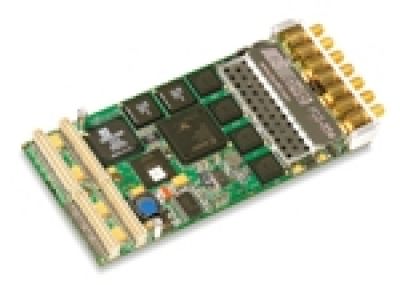 Get Support
Looking for help with
ICS-554
4-channel, 105 MHz, ADC PMC Module with DDCs, Xilinx FPGA and PCI 64/66 Interface