CK5
Rugged 6U CPCI Single Board Computer
We recommend the following alternative solutions: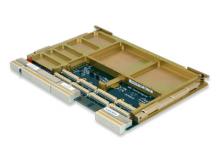 Rugged dual CompactPCI 64-bit PMC carrier module in 6U form factor
PICMG 2.16 6U CompactPCI SBC Provides High Performance Computing
Overview
Rugged 6U CPCI Single Board Computer with G4 PowerPC processor includes 10/100 Mb/s Ethernet and two PMC expansion sites. The CK5 hosts the MPC7447A G4 PowerPC processor with processing speeds up to 1 GHz and the Marvell Discovery III Bridge chip. The CK5 includes two PMC sites.
Two PMC expansion sites
10/100 Mb/s Ethernet
Conduction or convection-cooled versions
MPC7447A G4 PowerPC processor with processor speeds up to 1 GHz
Specifications
Processor
7447A G4 up to 1 GHz
Maximum Memory
Up to 1 GB SDRAM with ECC
Transition Modules
CK5-TM
Bus Interface Chip
PLX 6254
Ruggedization
Level 1 Std. Air Cooled

PLM Program