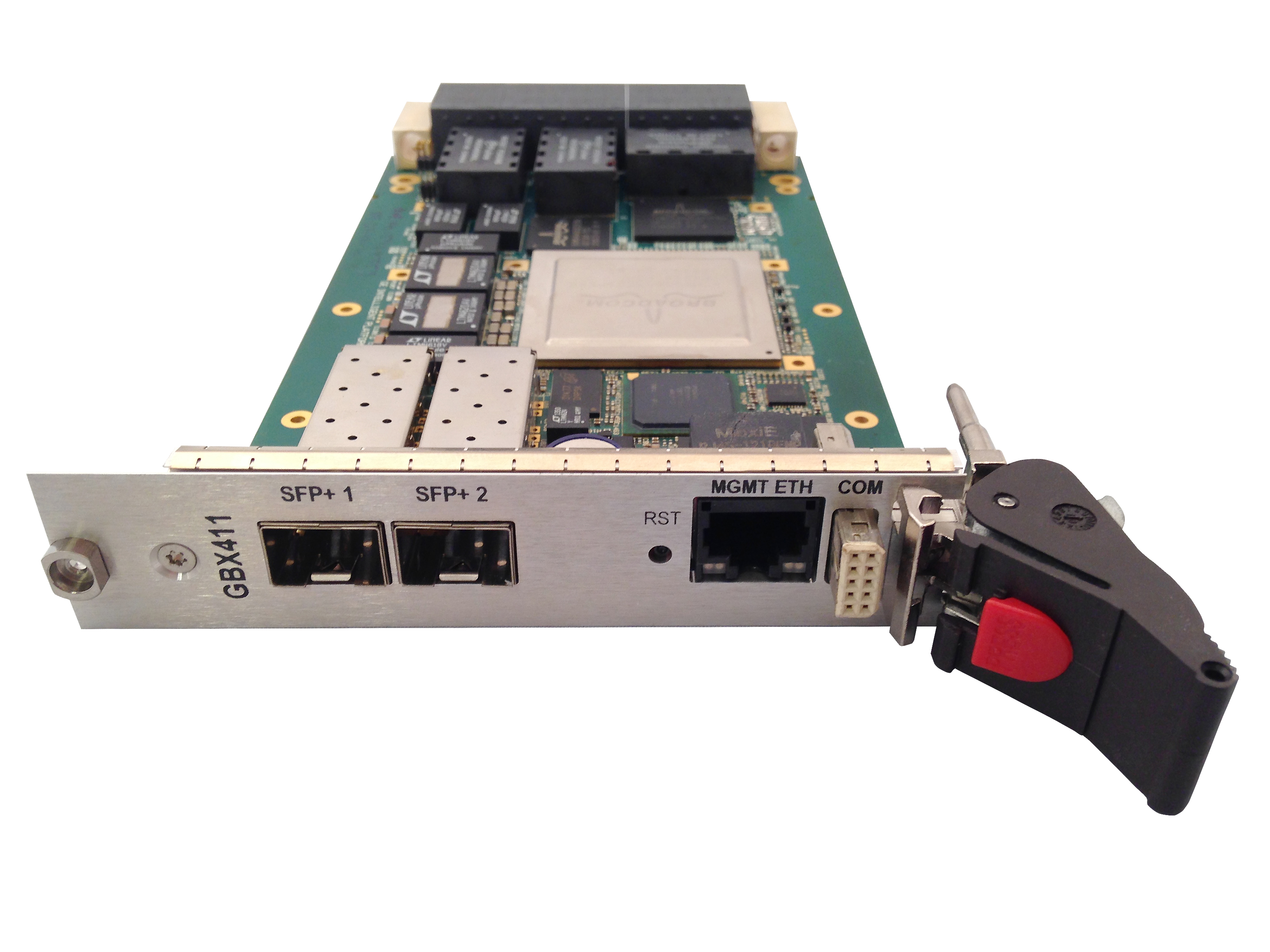 HUNTSVILLE, AL.— SEPTEMBER 29, 2015— GE Energy Management's Intelligent Platforms  business (NYSE: GE) today announced the NETernity™ GBX411 Fully Managed 3U VPX Layer 2/3 Ethernet Switch. Offering a variety of combinations of Gigabit Ethernet and 10Gigabit Ethernet connectivity, it allows customers a range of options to meet their network requirements.  Its GE Rugged design enables it to be deployed with absolute confidence on air, ground and sea platforms in applications such as surveillance, reconnaissance, radar, sonar and imaging.
The GBX411 – which supports precision time protocol (1588) - is characterized by significant flexibility through its use of GE's OpenWare™ switch management software, offering comprehensive and powerful management features for Layer 2/3 switching and routing. A wide range of networking protocols and management features is supported, together with extensive capabilities for Multicast, Quality of Service, VLANs, and Differentiated Services.  OpenWare™ can also be customized to meet a range of customer requirements.  Supported access methods include Telnet, SSH, serial console, SNMP and a Web interface.
The new switch also responds to the growing demand for high security with its access control, authorization and declassification features.
Compliance with the US Army's VICTORY initiative and specifications for an Ethernet switch is built in to the GBX411's capabilities.
"The GBX411 takes advantage of our 15 years of experience in developing high performance, rugged switches for the most demanding applications," said Christopher Lever, General Manager, Embedded Product Management at GE's Intelligent Platforms business. "Importantly, it is backed by the expertise of engineers with enormous proficiency in networking and protocols who have worked with numerous customers to help them bring sophisticated solutions to market quickly and cost-effectively. With the GBX411, our customers are buying much more than just a product – they're buying the know-how that lies behind it."
For more information: http://www.geautomation.com/products/neternity-gbx411
About GE Energy Management
GE Energy Management provides customers with electrical solutions that enable local utilities and energy-intensive industries to more efficiently manage electricity from the point of generation to consumption. For more information, visit http://www.geenergymanagement.com/.
About GE's Intelligent Platforms business
GE's Intelligent Platforms business, part of GE Energy Management, is headquartered in Charlottesville, VA. The company's embedded computing segment, headquartered in Huntsville, AL, and Towcester, England, provides one of the industry's broadest ranges of high performance, rugged, SWaP-optimized embedded computing platforms for a broad range of industries – both commercial and military/aerospace – where harsh environments need GE's expertise in robust, reliable, rugged solutions. Backed by programs that provide  responsive customer support and minimize long term cost of ownership for multi-year programs, GE's solutions are designed to help customers minimize program risk and cost, and speed time-to-market. For more information, visit geembedded.com.
###
For more information, contact:
Ian McMurray
Communications Manager
GE Intelligent Platform
NETernity and OpenWare are trademarks of GE Intelligent Platforms. All other trademarks are the property of their respective owners.