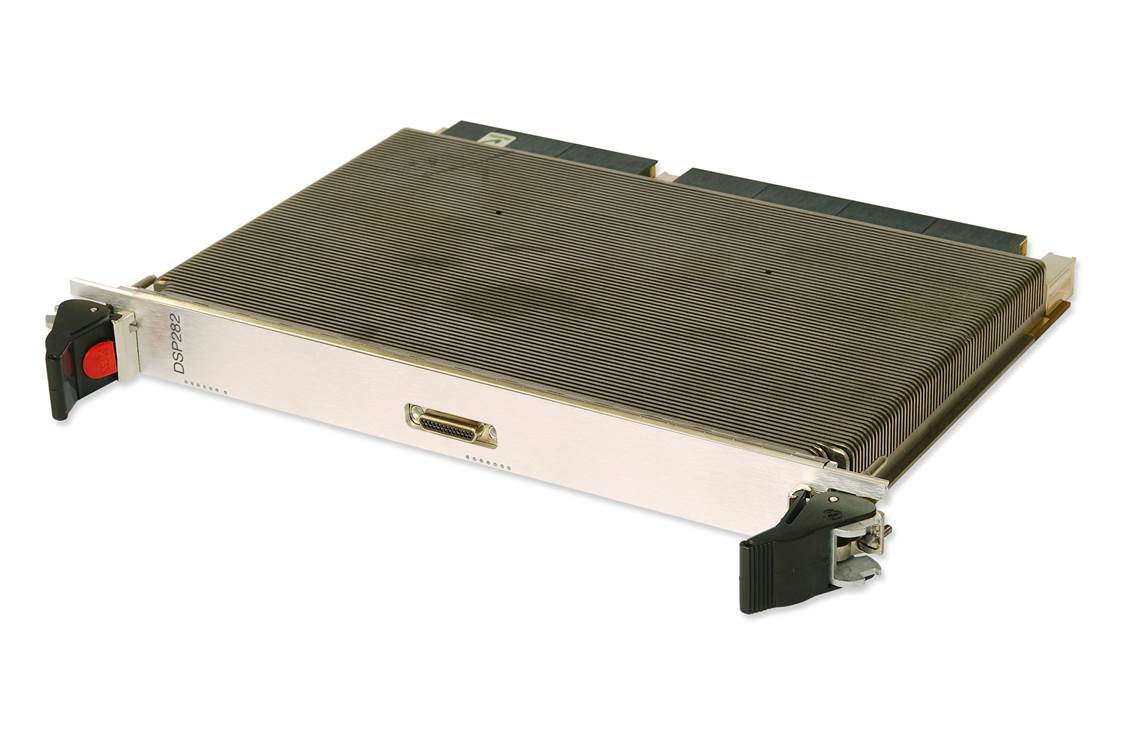 HUNTSVILLE, Ala.— January 19, 2016  Responding to the growing customer requirement for more compute power per chassis slot for demanding applications, Abaco Systems today announced the DSP282 6U OpenVPX rugged multiprocessor. Designed for processor-intensive systems deployed in harsh environments such as radar, sonar and image- and sensor processing, it delivers up to 665.6 GigaFLOPS of throughput per card slot as well as supporting advanced 3D graphics. This means that the DSP282 is ideally suited for a range of manned- and unmanned airborne, ground and naval applications that need maximum performance yet are highly constrained in terms of size, weight and power (SWaP).
The DSP282, which features dual 5th generation Intel® Core™ i7 2.4GHz quad core processors, is a further example of Abaco's commitment to innovation, which sees Abaco products and solutions benefit from the high performance computing (HPC) technologies that are found at the heart of the world's largest commercial data centers and bringing them to the HPEC (high performance embedded computing) world. Using RDMA-enabled InfiniBand® and Ethernet dual network interface cards, for example, means that the DSP282 is extremely scalable as well as offering high inter-processor bandwidth at extremely low memory-to-memory latencies.
In addition, system integrators can minimize card count by mapping multiple platform functions such as control, DSP, image- and video processing and graphics onto one or more DSP282s in order to reduce spares and simplify logistical support in the field.
The DSP282 also brings high levels of data security with Abaco's new on-board Security Hub and full support for the latest Intel platform security features.
In line with Abaco's commitment to maximizing the long term value of customer investments, the DSP282 is form, fit and function compatible with its predecessor, the DSP280, offering a straightforward upgrade path to a solution offering significantly greater performance within the same SWaP envelope.  
"The DSP282 supports activity-based intelligence, enabling platforms to stay on mission longer, to process more sensor data at higher resolutions and to provide higher quality data to decision makers in a shorter time," said Chris Lever, VP, Product Management at Abaco Systems. "For OEMs and systems integrators, its use of open systems architecture standards and support for HPC and big data software – including applications, middleware and drivers - means faster time to solution with minimal risk and at reduced cost."
Customer risk and cost are also minimized by the availability of Abaco's HPEC Center of Excellence which provides experience and expertise in the development of challenging multiprocessor applications. 
Similarly, Abaco's unique AXISPro application development environment supports application optimization for multi-core, multi-threaded and multi-node distributed system architectures across multiple operating systems including Linux®, Windows® and VxWorks® and includes quick start signal- and image processing examples to accelerate time-to-solution.
For more information:
Product Page: www.abaco.com/products/dsp282-dual-quad-core-multiprocessor
Datasheet: www.abaco.com/download/dsp282-product-data-sheet
About Abaco Systems
Abaco Systems is a global leader in open architecture computing and electronic systems for aerospace, defense and industrial applications. Spun out of General Electric in 2015, we deliver and support open modular solutions developed to upgrade and enhance the growing data, analytics, communications and sensor processing capabilities of our target applications. This, together with our 700+ professionals' unwavering focus on our customers' success, reduces program cost and risk, allows technology insertion with affordable readiness and enables platforms to successfully reach deployment sooner and with a lower total cost of ownership. With an active presence in a significant number of national asset platforms on land, sea and in the air, Abaco Systems is trusted where it matters most. www.abaco.com
For more information, contact:
Ian McMurray
Communications Manager
Abaco Systems
Intel is a registered trademark, and Core is a trademark, of Intel Corporation.  VxWorks is a registered trademark of Wind River Systems.  Linux is the registered trademark of Linus Torvalds.  Windows is a registered trademark of Microsoft Corporation. InfiniBand is a registered trademark and service mark of the InfiniBand Trade Association. All other trademarks are the property of their respective owners.