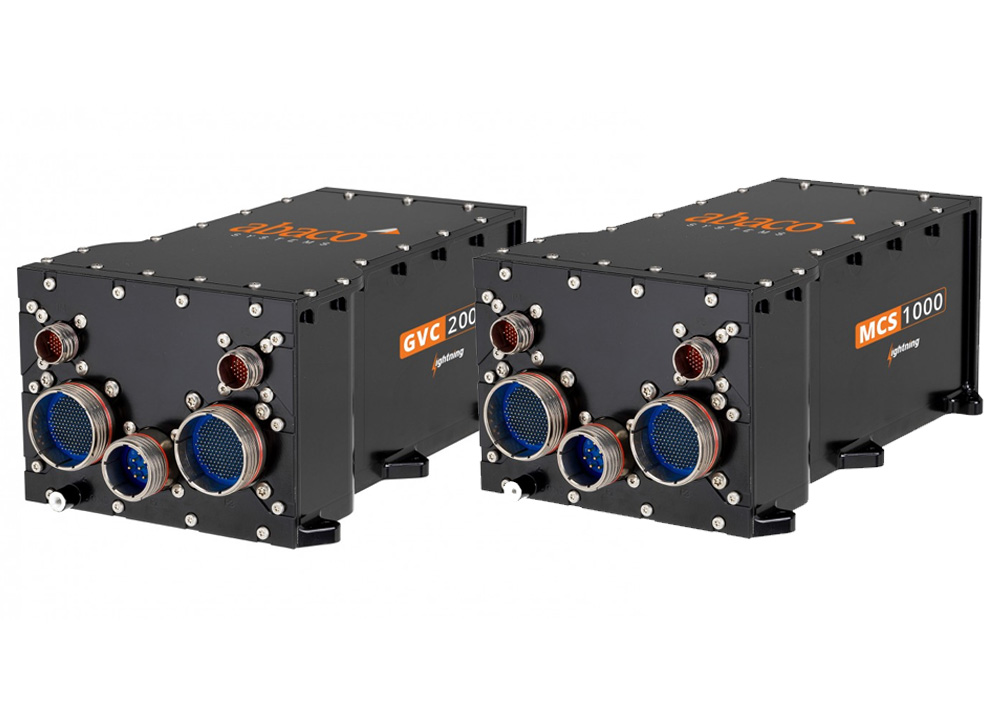 HUNTSVILLE, Ala.— SEPTEMBER 26 2017 —  Abaco Systems today announced the MCS1000 and  GVC2000, the first two mission ready systems to be based on the company's innovative Lightning platform.
The rugged, small form factor MCS1000 mission ready mission- or display computer is ideal for I/O-rich applications where there are multiple target platforms or unique interfaces required on the computing solution.  The system features the Intel® Xeon® E3 processor combined with a CoreAVI (or AMD) E8860 GPU, up to 16GBytes of DDR4 SDRAM and an XMC site.  This system is ideal for avionics-rich mission compute and display applications such as sensor fusion/processing or as a data processing and display computer.
The rugged, small form factor GVC2000 high performance mission ready display computer is ideal for applications where top end data- or display processing is required, with complex or unique I/O needs. It features the 12-core Intel® Xeon® D processor with 32 GBytes of RAM, combining it with an NVIDIA® Maxwell™ GPU capable of up to 1.2 TeraFLOPS. It is an optimized solution for degraded visual environments, complex scene rendering, or driving multiple independent displays all requiring extensive GPU processing capabilities.  Like the MCS1000, the GVC2000 can support up to 1 TB of removable SSD storage.
Both systems leverage the uniquely modular, scalable Lightning platform which is designed to enable the rapid inclusion of customer-unique requirements, delivering individually created solutions – but at significantly less cost, and with substantially shorter leadtimes than is possible with in-house developed solutions. 
Beyond their modular architecture, these systems also feature modular I/O. I/O is often the most challenging aspect of any development that needs to encompass legacy- or complementary systems interfaces, but both the MCS1000 and GVC2000 leverage Abaco's unique, patented MMS technology and feature four ECM (Electrical Conversion Module) slots, each of which can accommodate any of the 20+MMS I/O 'tiles' that are available off-the-shelf.
Both the MCS1000 and GVC2000 are designed to meet a rigorous qualification process based on selected MIL-STD-461G, DO- 160G, MIL-STD-704F and MIL-STD- 810G standards – further reducing the time and cost of deploying mission ready systems.
"The MCS1000 and GVC2000 are the first in what will be an extensive range of Lightning-enabled mission ready systems that we will announce over the coming months," said Mrinal Iyengar, Vice President, Systems & Services at Abaco Systems. "They will be designed for a broad range of applications, and available in a number of form factors – and each will be customer-customizable to provide an exact fit for the application, but without adding the expense and time usually associated with custom systems."
Both the MCS1000 and GVC2000 support AXIS ImageFlex, an innovative software tool designed to significantly reduce the time, effort and expense involved in engineering and deploying real-time image processing and image visualization electro-optical/infrared (EO/IR) applications.
Additionally, the GVC2000 platform is 'AI-enabled'. It fully supports the NVIDIA Deep Learning SDK, opening the world of AI to embedded customers. It enables trained neural networks to be deployed in harsh environments to solve complex image and signal processing applications. This platform supports Convolutional Neural Networks (CNNs) for example, enabling smarter, more accurate and higher performance object detection and classification than traditional procedural programing methods.  On the GVC2000, ImageFlex also allows easy integration of trained neural networks into an image processing pipeline, as well as providing utilities to accelerate the painful process of CNN training, resulting in new opportunities for augmented reality and situational intelligence to greatly enhance the effectiveness of military platforms.
For more information:
About Abaco Systems
With more than 30 years' experience, Abaco Systems is a global leader in open architecture computing and electronic systems for aerospace, defense and industrial applications. We deliver and support open modular solutions developed to upgrade and enhance the growing data, analytics, communications and sensor processing capabilities of our target applications. This, together with our 800+ professionals' unwavering focus on our customers' success, reduces program cost and risk, allows technology insertion with affordable readiness and enables platforms to successfully reach deployment sooner and with a lower total cost of ownership. With an active presence in hundreds of national asset platforms on land, sea and in the air, Abaco Systems is trusted where it matters most. www.abaco.com
For more information, contact:
Ian McMurray
Communications Manager
Abaco Systems
Intel and Xeon are registered trademarks of Intel Corporation. NVIDIA is a registered trademark and Maxwell is a trademark, of NVIDIA Corporation. All other trademarks are the property of their respective owners.