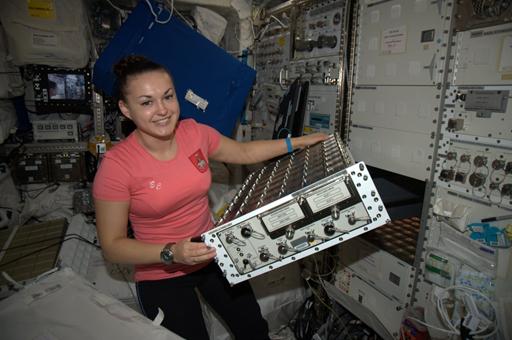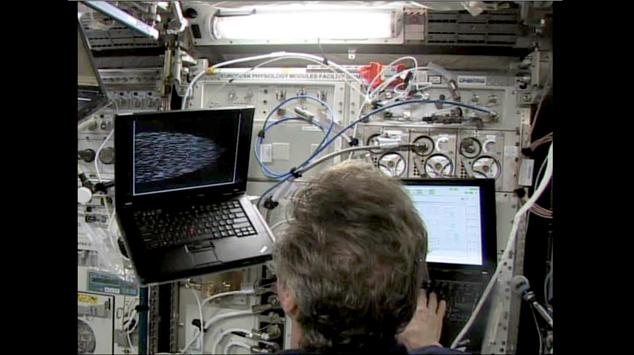 HUNTSVILLE, AL.— AUGUST 13, 2015— GE Energy Management's Intelligent Platforms  business (NYSE: GE) today announced that its CR11 single board computer (SBC) has been successfully deployed and is fully operational  onboard the International Space Station (ISS) as part of the continuing experiments by the European Space Agency (ESA) taking place way above the earth.
The CR11 is at the heart of the supporting infrastructure of ESA's Plasma Kristall-4 (PK-4) research missions. Two CR11s are integrated in the Control & Video Unit which was installed within a host rack known as the European Physiology Module (EPM). At the beginning of June 2015, the one week commissioning experiment session was successfully performed.
PK-4 is a permanent installation by ESA within the European Columbus research module onboard the ISS,  designed to conduct experiments on the complex plasmas in space. Plasma is the fourth state of matter after solid, liquid and gaseous. In space, more than 99 per cent of visible material (e.g. stars, clouds of gas and so on) is made up of this fourth state of matter.
For PK-4, the CR11s are utilized to execute the scientific script, record high volumes of video (130 Mbytes/sec) and housekeeping data, and display experiment video.
"This is a great example of what GE Rugged is all about," said Chris Lever, General Manager, Embedded at GE's Intelligent Platforms business. "Whether it's in the harsh environment of a heavy manufacturing facility, a railroad locomotive, onboard an armored vehicle – or, as it is here, out in space – GE's solutions are designed to operate with absolute reliability wherever they are deployed, in whatever conditions. It's excellent to have the opportunity, through the great work that OHB is doing with the International Space Station, to demonstrate again what GE Rugged really means."
The CR11 joins another GE solution on board the International Space Station. In 2010, Goodrich Corporation created a custom version of the NETernity™ RM924RC Ethernet switch, and a number of these now play a key role as part of the network control system of the onboard iPEHG (improved Payload Ethernet Gateway).
The CR11 is a 6U, CompactPCI single board computer featuring an Intel® Core™ Duo Processor. It is specifically designed to withstand the rigors of deployment in the harshest environments – like the International Space Station. It is optionally available with conduction cooling and extended temperature range of -40° to +80° C, while increased shock and vibration immunity is designed in by using optional stiffener bars and wedge locks. Other typical applications include factory automation, simulation/training, test and measurement, and military/defense.
The International Space Station is a joint project among five participating space agencies - NASA, Roscosmos, JAXA, ESA, and CSA – and was launched in 1998. It has been continuously occupied since 2000. The largest artificial body in orbit – at 400 kilometres/250 miles  - it serves as a microgravity and space environment research laboratory in which crew members conduct experiments in biology, human biology, physics, astronomy, meteorology and other fields.
About GE Energy Management
GE Energy Management provides customers with electrical solutions that enable local utilities and energy-intensive industries to more efficiently manage electricity from the point of generation to consumption. For more information, visit http://www.geenergymanagement.com/.
About GE's Intelligent Platforms business
GE's Intelligent Platforms business, part of GE Energy Management, is headquartered in Charlottesville, VA. The company's embedded computing segment, headquartered in Huntsville, AL, and Towcester, England, provides one of the industry's broadest ranges of high performance, rugged, SWaP-optimized embedded computing platforms for a broad range of industries – both commercial and military/aerospace – where harsh environments need GE's expertise in robust, reliable, rugged solutions. Backed by programs that provide  responsive customer support and minimize long term cost of ownership for multi-year programs, GE's solutions are designed to help customers minimize program risk and cost, and speed time-to-market. For more information, visit geembedded.com.
###
For more information, contact:
Ian McMurray
Communications Manager
GE Intelligent Platform
+44 (0) 1327 322821
NETernity is a trademark of GE Intelligent Platforms. Intel is a registered trademark, and Core is a trademark, of Intel Corporation. All other trademarks are the property of their respective owners.