NETernity™ GBX24
IPv6 Enabled, 6U VME, Conduction Cooled, 24-port Gigabit Ethernet Switch
We recommend the following alternative solutions: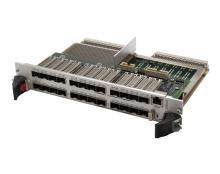 Opportunity to replace multiple rear I/O and front I/O switches with one GBX25
Learn More
Overview
NETernity GBX24 is a fully managed (Layer 2/3) Gigabit Ethernet switch designed to meet the most demanding requirements for network switching in tactical applications. This Gigabit switch is available in both air- and conduction-cooled formats and features a non-blocking shared memory architecture. This provides 48 Gbits/s core offering full wire speed performance with minimal latency on all ports simultaneously. The GBX24 has comprehensive network management capabilities based on FASTPATH® software that includes VLANs, link aggregation, spanning tree, IPv4, IPv6, IGMP, traffic policing, Quality of Service (QoS), guaranteed bandwidth and SNMP. Configuration of the switch is via a comprehensive and intuitive web interface, command line interface or SNMP. GBX24 provides optional optical expansion through a mix of onboard optics and a separate Optical Expansion Board. All twenty-four ports can be converted to optical outputs to give twenty-four ports of Gigabit, either 1000 BaseSX or 1000 BaseLX. Onboard built-in test (BIT) ensures the GBX24 can be easily linked with other Abaco Systems boards to provide integrated system level health monitoring and diagnostics.
Fully managed solution
Layer 2/3 switching with advanced support for VLANs, QoS, and IPv6
Hardware enabled IPv6 and IPv4 support
6U VMEbus form factor
24-ports of Gigabit Ethernet (24 ports to rear connectors, with 4 ports optical to front panel)
48 Gbit/s non-blocking switch fabric with full wirespeed performance
Specifications
Port Type
10/100/1000BaseT, 1000BaseLX, 1000BaseSX
Management Type
Fully Managed Layer-2/3+

PLM Program