NETernity™ GBX16A
NETernity 6U VME IPv6 capable 16-port Gigabit Ethernet managed switch
We recommend the following alternative solutions: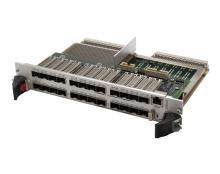 Opportunity to replace multiple rear I/O and front I/O switches with one GBX25
Learn More
Overview
NETernity™ GBX16A is an IPv6-capable full Layer 2/3 managed Gigabit Ethernet switch in 6U VME form factor designed to meet the most demanding requirements for network switching in tactical applications. This 16-port Gigabit Ethernet switch is available in both air- and conduction-cooled formats and features a non-blocking shared memory architecture. This provides a 32 Gb/s core delivering full wire speed performance with minimal latency on all 16 ports simultaneously.
GBX16A supports IPv6, traffic policing and Quality of Service (QoS) functionality such as guaranteed bandwidth allocation and prioritization. The management interface is password-protected and can be accessed by either a web or command line interface.
6U VME Fully Managed Gigabit Ethernet Switch
Air- and conduction cooled formats available
Complies with 802.x flow control
32 Gb/s non-blocking switch fabric with full wire speed performance
Provides guaranteed bandwidth channels
Sixteen 10/100/1000BaseT Mbps Gigabit Ethernet switching ports via backplane
Optional four extra 1000Base-SX or 1000Base-LX fiber optic ports (IEEE 802.3Z)
- Up to 24 optical interfaces available with the optional daughter board
Full layer -2/3+ management software with advances support for VLANs, QoS and IPv6
For Ruggedization Levels, please see the configuration guide under the downloads tab
Specifications
Port Type
10/100/1000BaseT
Management Type
Fully Managed Layer-2/3+

PLM Program
Networking
No two networking challenges are the same – which is why our customers value Abaco's flexible OpenWare switch management software.
Security
Sensitive applications need secure hardware platforms. That's why we build in tamper-resistance, secure boot, memory sanitization and Intel Trusted Execution Technology.
OpenWare
The industry's most flexible, most customizable, most scalable network management software – with multi-level security and the fastest start-up time.