IP-561A
IP-561A IP Module 6-Wire Interface for ARINC 561/568
We recommend the following alternative solutions: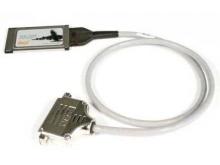 The RCEI-715A is an intelligent, high-density, Type II PC Card (PCMCIA) interface that provides up to 12 fully independent ARINC 429/575 channels, along with up to 4 bi-directional avionics-level I/O discretes.
Learn More
Overview
The IP-561A is an interface to ARINC 561 and ARINC 568 6-wire databuses. This new product includes buffering and time-tags, and is built on a rugged, cross-architecture IP Module platform (also known as IndustryPack). IP Modules are standards-based I/O mezzanine cards (about the size of a business card), that mount onto non-intelligent host carrier boards.
Large, on-board buffers for receive and transmit data
Cross-Platform portability (PCI and CompactPCI)
Highly flexible configurations available
Based on IP Module Technology
Support for LabVIEW
Specifications
Application
Lab, Simulation, Test

ARINC