Application and System Visualization.
- Accelerate building, mapping, tuning distributed applications for heterogeneous systems.
- Visualize how the hardware and application resources are utilized in real-time.
- Customize application mapping, and interconnects used to optimize hardware equalization.
A picture is worth a 1000 words
It's much easier to design and monitor embedded HPC systems and applications visually.
HardwareView: Monitor hardware
Run a lightweight agent on each compute node to get access to detailed information.

Visualize detailed hardware info:
Board/CPU/core.
Interconnect fabric.
Other components.
Visualize live real-time stats:
CPU/core usage.
Memory/cache usage.
Board/CPU temperature.
Hover the mouse over any component to see detailed information.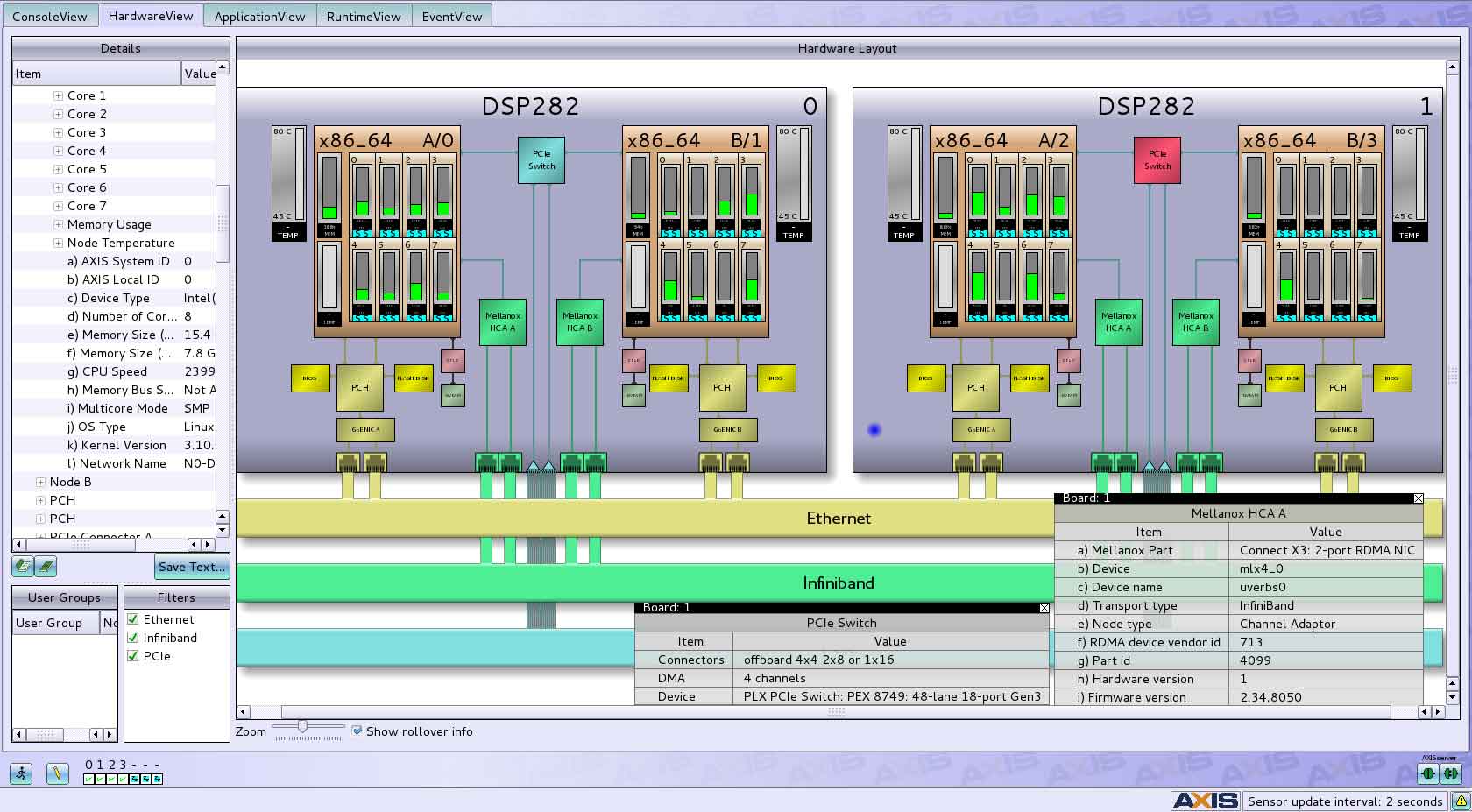 ApplicationView: Design thread level application dataflow
Easily create the framework for a multi-process multi-thread application using.
AXIS Flow for point to point and collective communication.

Visualize detailed hardware info:
Define the process/thread based tasks.
Define the communication connections between tasks.
Map to the tasks to the system's hardware.
Generate full framework source code (threads & processes) for the application, including interconnect connections for all communication paths, and even the Makefiles.
* Coming soon for AXIS Takyon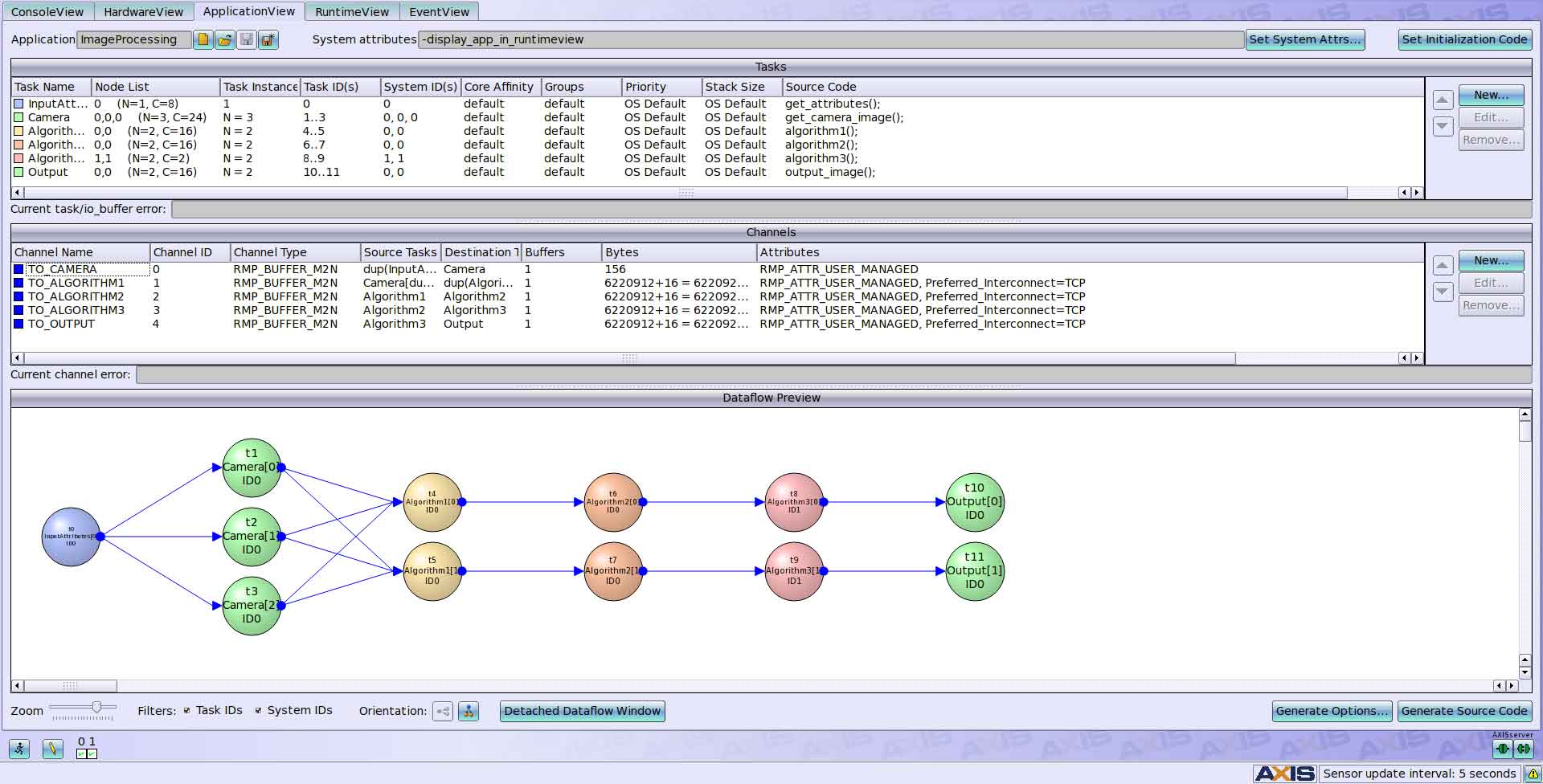 ConsoleView: Simplify management of multiple consoles
Create and manage multiple consoles in one GUI.
Simplify how commands are run across a computer cluster.

Create multi-process commands in the AXISRun command editor.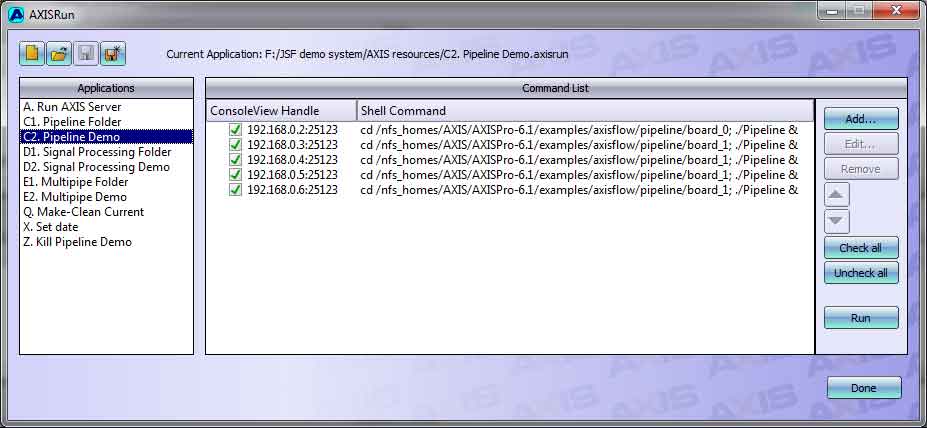 Run the commands, with a single click, in ConsoleView and see the output in the console windows.
You can also run commands directly in a single console window, or set filters to run commands in a subset of windows.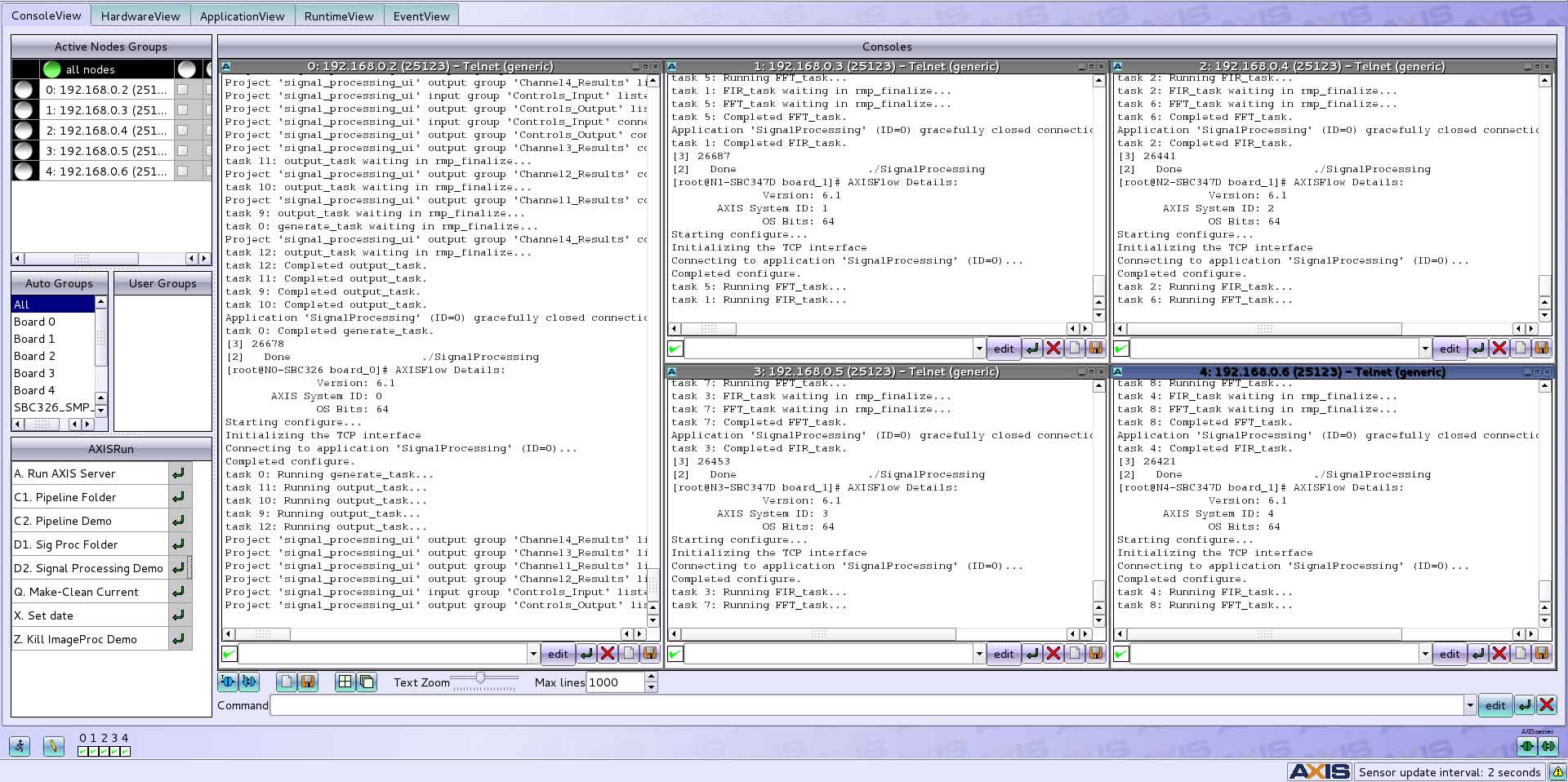 RuntimeView: Monitor application
Visualize your distributed AXIS Flow or MPI application in real-time.
Enables rapid identification of hardware utilization and application bottlenecks.

Shows how an AXIS Flow or AXIS MPI application is mapped to the system's hardware.
Live Real-Time Stats:
CPU/Core/thread usage and rolling history.
Memory/cache usage and rolling history.
Board/CPU temperature and rolling history.
Per-process and kernel stats and usage.
Interconnect activity per communication path.
Hover the mouse over any component or communication path to see detailed information.
* Coming soon for AXIS Takyon