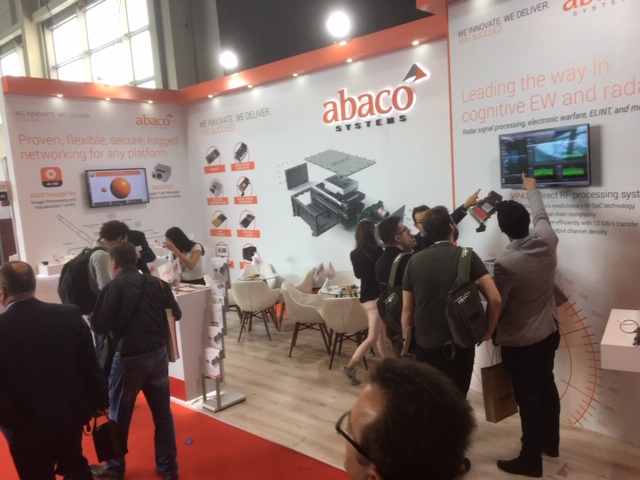 This week, we're exhibiting with our local partner in Turkey, EMF, at IDEF. Hosted by the Turkish Ministry of National Defense and under the management and responsibility of the Turkish Armed Forces Foundation, IDEF is being held at TÜYAP Fair and Congress Center in Büyükçekmece, Istanbul. Over 800 companies from 50+ countries are represented here, with total visitors expected to exceed 2017's 65,000 from 100+ countries.
The Abaco booth is in a perfect location, with the two largest Turkish defense companies - Aselsan and Havelsan on either side of us. EMF did a great job in pulling together a booth that combines clarity and simplicity and delivers a simple but powerful message.
The booth is effectively divided into three demonstration areas. In one, we're showing off our new avionics products that feature the Intel Thunderbolt 3 interface. In the second, we're showcasing our AXIS software development tool suite running live on the VP430 RFSoC board. The third area sees us demonstrating the RES3000 rugged Ethernet switch and ImageFlex on a DAQMAG2A graphics and vision computer.
First day was, as usual, somewhat quiet as it was reserved for the many delegations who visit IDEF. The second day, however, saw us hit the ground running: by the time the show closed, we'd already captured 50 leads that we'll be following up after the show. We're expecting that level of interest to continue right through the last day.
Altogether, a very enjoyable and very worthwhile show so far. Our thanks to partner EMF for helping make it such a success.