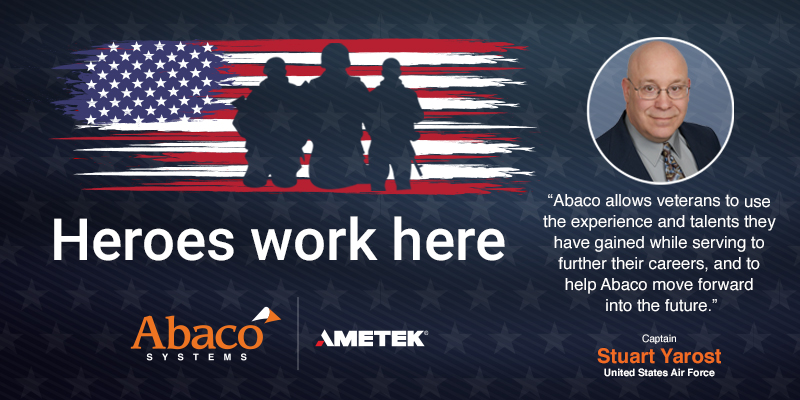 For the first installment in Heroes Work Here, I'd like to highlight Stuart Yarost, principal quality engineer at Abaco Systems, who served in the United States Air Force. Thank you for your service, Stuart.
Alisa: What motivated you to join the military?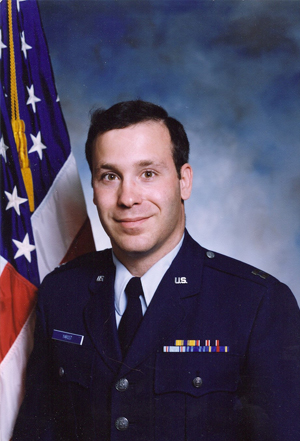 Stuart: I wanted to be an astronaut! My first duty assignment was Edwards AFB, the home of the Air Force Flight Test Center and the USAF Test Pilot School. After working side by side with the graduates of the USAFTPS, I gave up on that dream. Despite that, I enjoyed my time in the USAF.
Alisa: Can you tell us about your career in the military?
Stuart: I spent nine years in the USAF, entering as a senior in college, then going to Officer Training School as soon as I graduated. I spent time at Edwards AFB as a microcomputer manager, then as a flight test engineer, testing electronic warfare in F-16s. From there I was sent to the Air Force Institute of Technology at Wright Patterson AFB in Dayton Ohio, where I received a MS in Computer Engineering and AI. At the time, this was the only ABET certified MS in CPE offered in the US, and I was in the second class. My follow-on assignments were at USAF AI Support Center, then The Air Force Acquisition Model Office, both at WPAFB.
Alisa: Why did you come to work for Abaco?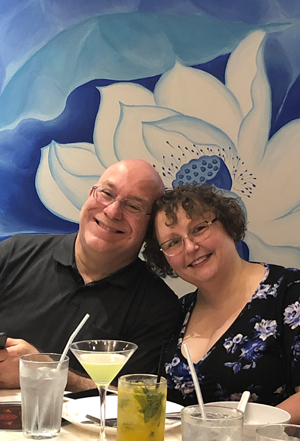 Stuart: I came for the opportunities and the work.  Also, the great benefits! I have enjoyed setting up the processes necessary for Abaco to certify avionics to DO-178C and DO-254, then actually help them be used to certify the FORCE2C.
Alisa: Would you recommend Abaco to other veterans and why?
Stuart: Yes, I would recommend Abaco. Abaco allows veterans to use the experience and talents they have gained while serving to further their careers, and to help Abaco move forward into the future.
Alisa: What is the most innovative or challenging thing you've done since you've been here?
Stuart: Setting up processes to support certification, training individuals to use the processes across the world, and ensure they have been followed is the most challenging and rewarding work I have done at Abaco.
Alisa: How have the leadership principles you learned while serving benefitted you at Abaco?
Stuart: I have learned to never assume that something is someone else's problem.  Always make sure someone owns each issue or you'll need to take care of it yourself. Never say something is "wrong," instead ask questions to highlight what you do not understand, and allow an explanation to clarify either the issue or your understanding.
Alisa: What one thing did you learn while you were in service that you carry with you through life?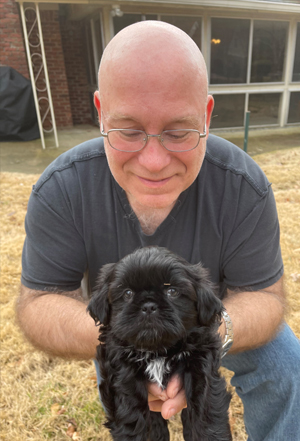 Stuart: Being neat. Prior to the military, I was not the tidiest person in the world. Military service ingrained in me the necessity to be neat and to understand everything has its place. Also, to be on time. Being late to a meeting shows lack of respect. Either be there on time or notify the meeting leader.
Alisa: You meet your 18-year-old self and are only allowed to say 3 words … what do you say?
Stuart: Invest in Amazon!
Alisa: Do you have any other comments or anything you'd like to share?
Stuart: Serving in the military was an honor that will last for a lifetime and beyond! Service to others is something to which we should all aspire!