Stephen Miller
Fire Direction Specialist
United States Army and New Mexico National Guard
---
In our fifth installment of Heroes Work Here, I'd like to highlight Stephen Miller, U.S. Senior Program Manager at Abaco Systems, Inc. who served in the United States Army. Thank you for your service, Stephen.
Alisa: Can you tell us about your career in the military?
Stephen: I was a Fire Direction Specialist for 155MM howitzers in the artillery. I was a SSG and served 10 years, 5 active and 5 with the New Mexico National Guard. I never intended to leave the military, I ended my service contract to attend college and re-enter as an officer, but ended up going overseas to work as a contractor supporting the warfighter instead for 5+ years. In addition, my wife recently separated active duty as a 68C Practical Nurse and will be attending Officer Candidate school for the Alabama National Guard in the spring. She is following a similar career path to mine, although far more talented.
Alisa: Why did you come to work for Abaco?
Stephen: I wasn't sure that Abaco would be a fit for me, but after meeting with Ron Williams, Elaine Thrasher, Brian Strickland, and Fadel Smith I knew I'd enjoy being a part of this team. I've worked for many agencies over my career, but supporting emerging technology that has a direct impact on our ability to support troops in my passion.
Alisa: Would you recommend Abaco to other veterans and why?
Stephen: Absolutely. The people here at Abaco are what make the company great. Everyone is willing to help and the entire work environment feels like a collaborative team environment – which speaks to me. The work is rewarding, leadership is fantastic and has a vision for the organization. The future is bright at Abaco.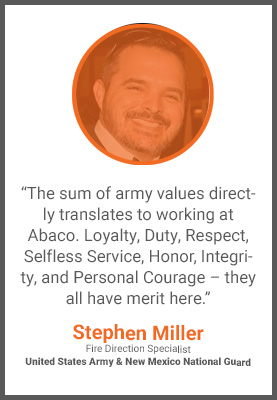 Alisa: What is the most innovative or challenging thing you've done since you've been here?
Stephen: I love business processes and developing framework to achieve long term goals. I arrived at Abaco during a time where we have been integrating multiple business management tools. Having the opportunity to watch the team's hard work and efforts come to fruition is awesome.
Alisa: How have the leadership principles you learned while serving benefitted you at Abaco?
Stephen: The sum of army values directly translates to working at Abaco. Loyalty, Duty, Respect, Selfless Service, Honor, Integrity, and Personal Courage – they all have merit here. In every situation or challenge I've come across at Abaco, you can overlay these values and apply them to achieve results.
Alisa: What one thing did you learn while you were in service that you carry with you through life?
Stephen: More than I can say as my life has really been shaped by my time in the service. If I had to pick one thing it would be that teamwork is essential to the accomplishment of any goal. Be it personal or professional, no one person is an island. Any and all accomplishment is always a credit to a group effort. I am really enjoying this journey. Everyday is different, there are new nuances, challenges, and achievements arrive with each sunrise, but I wouldn't trade any of it to be anywhere else.