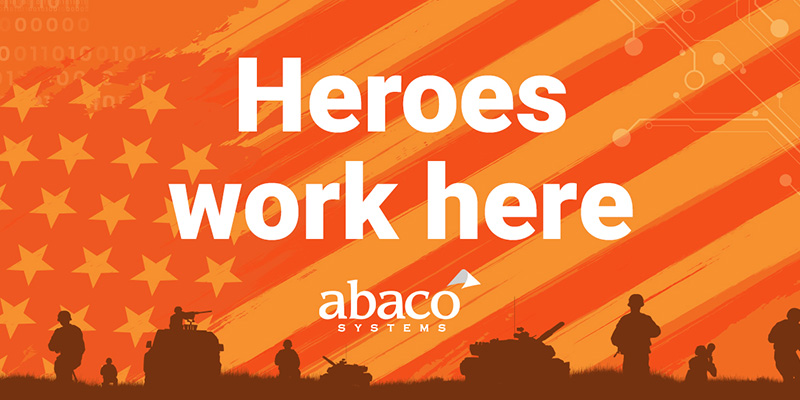 Ron Williams
Communications Chief in Aviation, Infantry, Air Defense Artillery, and Armored Battalions
US Army Signal Corps
---
In the fourth installment in Heroes Work Here, I'd like to highlight Ron Williams, U.S. Program Management Group Lead at Abaco Systems, Inc. who served in the United States Army Signal Corps. Thank you for your service, Ron.
Alisa: Can you tell us about your career in the military?
Ron: I spent 20 years in the US Army Signal Corps. I performed all duties as Communications Chief in Aviation, Infantry, Air Defense Artillery, and Armored Battalions. I planned, coordinated and supervised the installation, operation, maintenance, and management of the telecommunications systems and networks, including the radio, switching, cable, and automation equipment. I also directed the development and execution of unit level Signal maintenance programs, policies, and procedures.
Alisa: Why did you come to work for Abaco?
Ron: My experience prior to joining Abaco centered around providing Systems Engineering and Technical Assistance (SETA) to the US Government. I also spent some time as a Program Manager for a Defense Prime in a Systems Integration and deployment role. The choice to come to Abaco was to expose myself to a true development and manufacturing environment.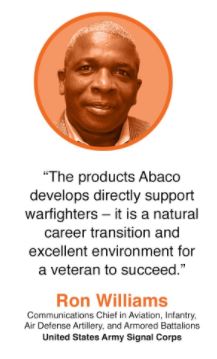 Alisa: Would you recommend Abaco to other veterans and why?
Ron: The products Abaco develops directly support warfighters – it is a natural career transition and excellent environment for a veteran to succeed.
Alisa: What is the most innovative or challenging thing you've done since you've been here?
Ron: I've had the opportunity to work on several programs that were behind schedule and over budget. The customer in all cases have been very frustrated. The ability to turn that around and delivering a quality product has been very satisfying.
Alisa: How have the leadership principles you learned while serving benefitted you at Abaco?
Ron: While in the military I had the opportunity to serve as an instructor in a Primary Leadership Development Academy. I believe that treating everyone with respect, clearly communicating and leading by example are critical and have impacted my career as a whole.
Alisa: What one thing did you learn while you were in service that you carry with you through life?
Ron: Always do your best in whatever you do. If you're wrong, admit it.