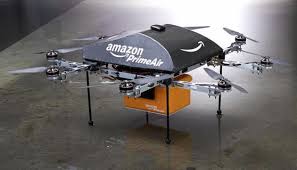 If people thought Amazon's announcement on Prime Air—their unmanned aerial vehicle delivery system effort—signaled a new age for unmanned aerial systems (UAS), they'd be partially correct. Despite Prime Air's probable impracticality, we are in fact at a significant point in the UAS market, involving UAS technology, design and operations. What has been a market largely driven by various government agencies will transform to include ever more commercial and industrial applications.
The single-biggest catalyst in this inflection for the U.S. market is the recent FAA selection of six test sites for UAS integration into the national airspace (NAS). Clay Dillow observed, "It's an interesting time to be in the UAS industry, particularly where military UAS are concerned…"
Including UAS into the NAS has several implications for safety and utility. Safety requirements are well defined—but utility is open to the imagination. As Clay further notes, "…those in the industry believe that unmanned systems—and in particular unmanned aerial systems—have only just begun to transform the aerospace and defense sectors." There is certainly a lot of interest and development around the world, as there are some 600 UAS aircraft types—with a third of those developed in the past couple years alone (IHS) . Embedded computing technology and on-board processing will become an ever more critical piece of this transformation.
Government-sponsored UAS in various forms have been around for many years, and they have proven themselves to be very valuable tools over the past decade or so. They provide persistence, versatility in operations and reduced risk to human life. The market transformation will evolve end-user thinking toward UAS utility, tools and services, rather than UAS novelties in and of themselves. But these new "tools" still require considerable development and capability to meet new market requirements for interoperability and affordability. Regular UAS application in the commercial space is probably still a few years off. However, NAS integration research and testing will now accelerate this proliferation and required innovation.
But to become effective tools in the NAS or other controlled airspace, UAS platforms must be airworthy and compliant with airspace operating rules, standards and procedures—and the additional requirement for a qualified operator or pilot will need to be replaced by UAS autonomy. UAS platforms need and want to be autonomous. In fact, just the ability to fly in and around the NAS will require UAS platforms to see and avoid on their own, and have systems as or more complex than their payloads in some instances. They will need to observe, think and make decisions. Efficient on-board embedded computing capability is what will allow this all to happen.
DoD and commercial UAS requirements will all have the same underlying requirements as the industry matures. These, fundamentally, are a higher degree of autonomy, airspace integration and manned platform extension—manned-unmanned teaming in DoD parlance. It is expected that there will be common control and autonomy capabilities between DoD and commercial UAS platforms. Other common requirements will include utility, affordability and open interoperability. Commercial applications may be able to rely on simpler autonomous systems methodologies. DoD platforms have the added requirement for more complex, variable operating environments including operations in contested airspace. It will be interesting to observe how commercial market applications might drive UAS technology and innovation. Will certain commercial UAS products and capabilities surpass DoD technology much the way commercial electronics did?
A couple interesting commercial market endeavors highlight both the UAS observation and surveillance function, and the UAS transportation or delivery function. Matternet, a startup in Palo Alto, Calif., envisions a UAS transportation system for parts of the world where parcel transportation access is badly needed and not readily available. Their design is a UAS network similar to a data network managed much like the Ethernet multiple access/collision detect paradigm, except in a physical sense with a UAS fleet.
Genscape is an organization that provides real-time market data to power and energy market participants. They observe and analyze real-time physical energy commodities, energy commodity movement and other relevant energy industry parameters. They then package and sell their analyses to a variety of energy market customers, including energy investors. Genscape data collection and observation is by a variety of means, including helicopter flyovers with infrared imagers pointed at oil storage tanks, a shoe-in UAS application. Similar capabilities would be of value to other commodity investors in the agricultural space. So there will be private money behind commercial UAS innovation.
On-board computing and performance demands required to meet these UAS evolving requirements will be a driving force for the foreseeable future with the additional significant constraints of size, weight and power. Applications and requirements will never cease in pushing the on-board processing envelope to meet autonomy (man-out-of-the-loop), safety and survivability requirements. Multispectral sensors, with ever-higher resolutions and varying fields of view, equal more data. High speed interconnects serving this data equals more data throughput. In many cases, multicore and many-core (GPP, GPU) processing capabilities will be the only solutions to meet these requirements and open-system architectures will enable the rapid innovation required.
The nascent UAS industry is set to transform into new markets, more applications, improved technology and new value propositions. It will become a new tool for a new age. It will need to evolve toward more efficiency, affordability, utility and open architectures.  Movement on the NAS integration front will accelerate this market transformation. There will be new demands and more performance required in the on-board computing solutions, including safety certifiability.
It will certainly prove to be an interesting time to be in the UAS industry.
Photo via
Amazon