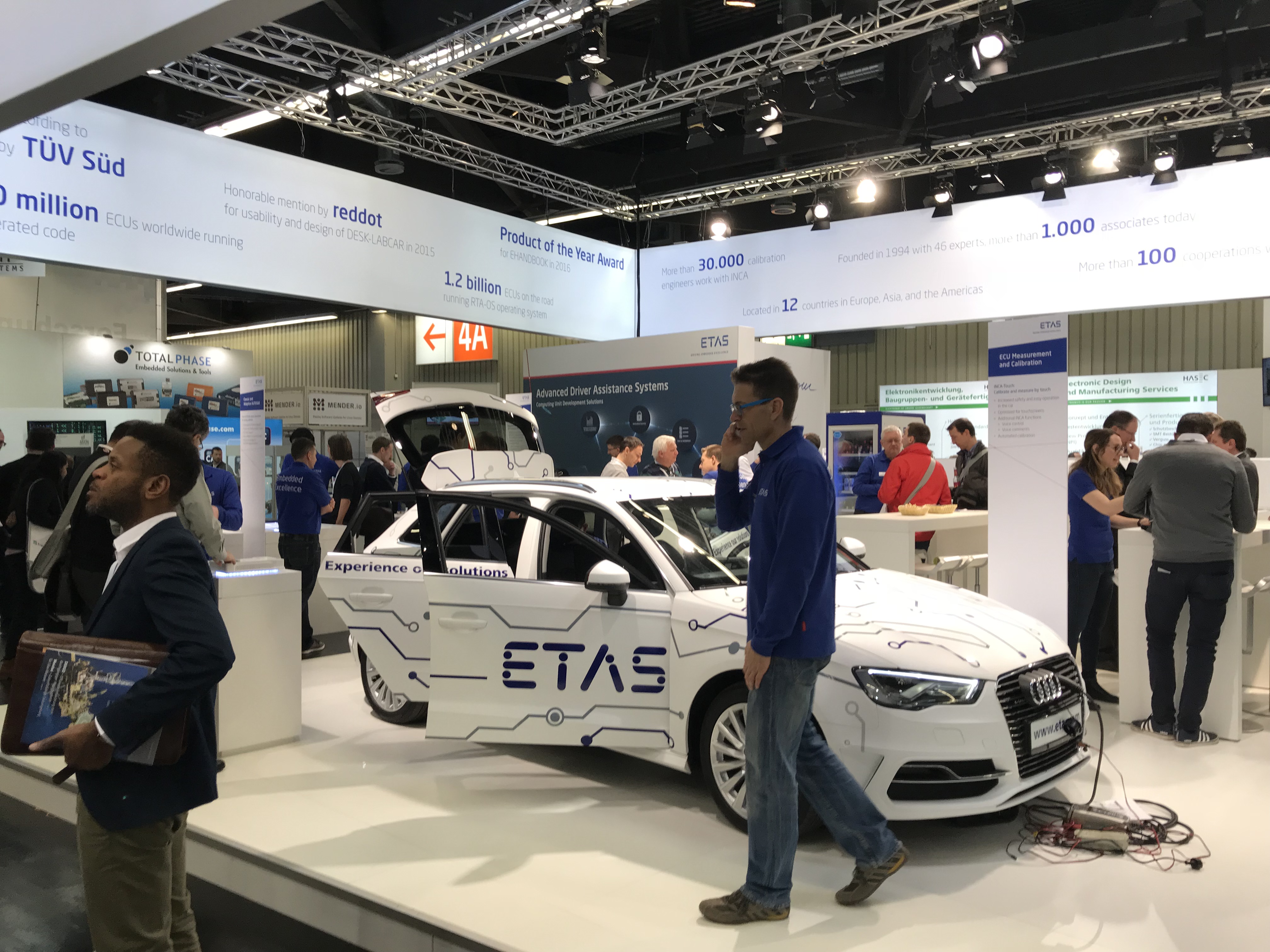 This is my third year coming to Nuremberg, Germany for Embedded World. With over 1,050 exhibitors attending Embedded World 2018, this is the embedded industry's biggest show - and a bit overwhelming in scale.
While Embedded World has traditionally been focused on industrial automation, I'm seeing a trend towards autonomous vehicles (see picture above).  This is similar to what I saw at the Computer Electronics Show (CES) in January 2017.  Embedded businesses are embracing the opportunity for creating an ecosystem of rugged hardware and software for the autonomous space….moving from the lab equipment I saw in the trunks of cars at CES to deployable solutions.
Many embedded businesses are heavily investing in compute and network processing - but what is interesting is that the periphery building blocks are also targeting autonomy: Blackberry with their QNX real-time operating system;  Green Hills Software; and, of course, Wind River. The software is all about safety critical and security. There is certainly spill over to the mil-aero market segment, as we see these requirements there too.
Growth and innovation
Another trend I'm seeing from the show is growth and innovation within our industry.  The show is vibrant, with many new participants.  After being here for three years, I see companies that had small booths in the first year back with much bigger booths this year. This includes ADLink, Advantech and Connect Tech, as a few examples. This is good, as it enables further investment within the industry.
My last observation is regarding the larger players… While Intel and NXP have big plays here, I was interested to see Avnet has two very large booths at the show.  One booth was exclusively for board level products, and another for silicon components.  Clearly, they are moving up market from their traditional component distribution model. I'll probe a bit more on this tomorrow
We stopped by the CoreAVI booth this afternoon. CoreAVI and Abaco have just announced a new partnership to exploit CoreAVI's expertise in software for safety critical applications and Abaco's focus on rugged hardware design and manufacture for mission and safety critical applications.  Tonight, we'll be having dinner with CoreAVI 's CEO Damian Fozard, Dan Joncas and Mary Beth Barrans to celebrate the announcement.   Tomorrow, we'll be presenting at the CoreAVI EMEA sales meeting.  This will be a good kick-off event for our partnership.