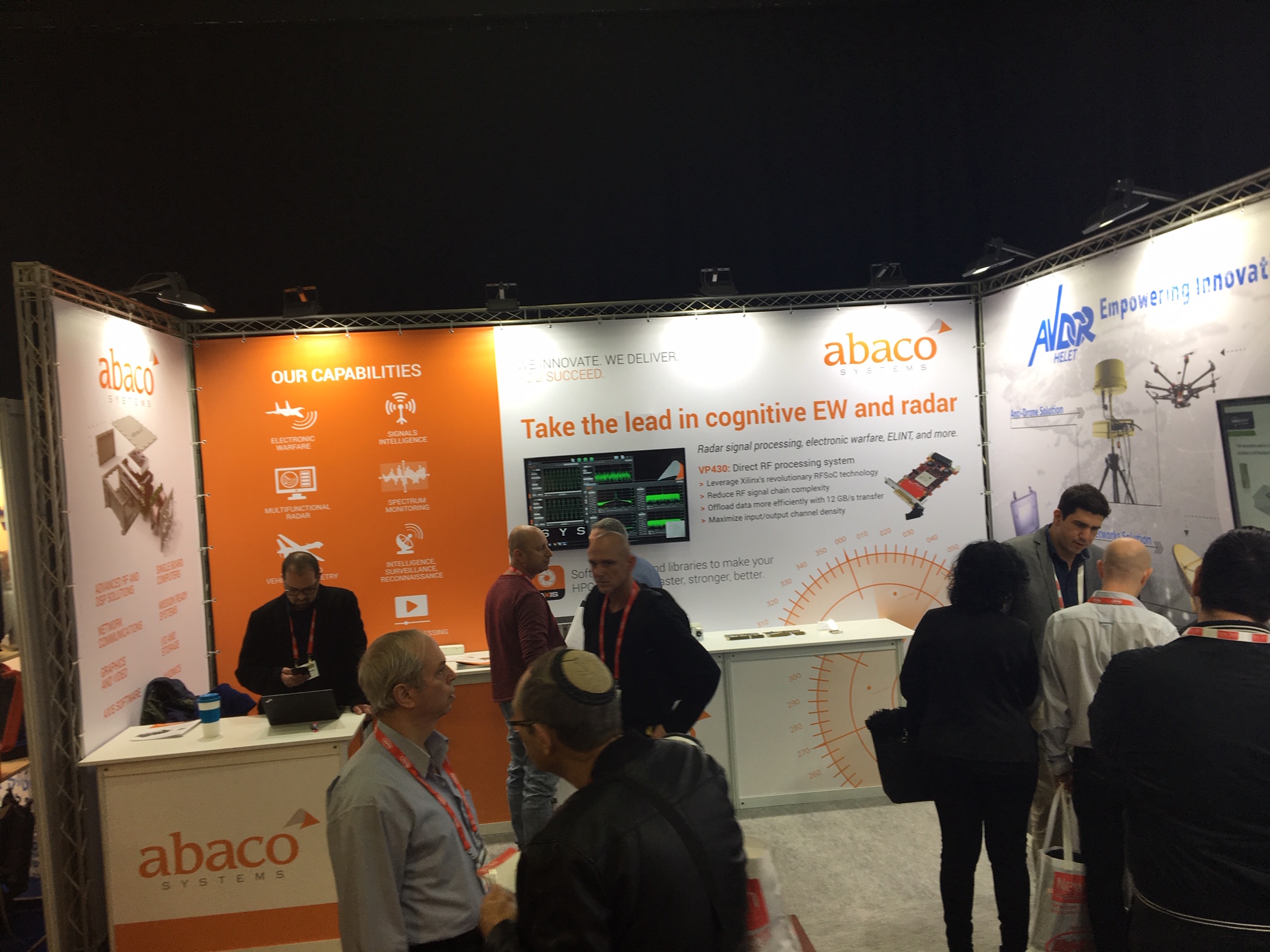 Abaco's name was out there at the Military and Aerospace Exhibition we attended at the Israel Trade Fairs Centre in Tel Aviv this week.
We were there with our partner in Israel, Avdor, who did everything right. We had a booth that could not have been better located; as a gold sponsor, our name appeared on the front page of the conference program; and the 'haduv devan she ba katzefer'  or 'cherry on  the cake' was the opportunity we had to present for half an hour in front of Avdor's potential customers.
Brian Hoden, Abaco's principle mechanical engineer, helped us out with a presentation he put together on the unique technologies Abaco has developed to solve thermal challenges with embedded systems. Christophe Rabourg did a great job, describing to the audience how Abaco has applied our unique technologies to one of the most important aspects of deploying embedded computing in the battlefield – ensuring robust reliability in all conditions and environments. You can find the white paper on which his presentation was based here.
Great pleasure
Even better: Avdor had translated our white paper RFSoC for Radar and Electronic Warfare into Hebrew (no mean feat!) - and it was published in Israel's New-Tech Military Magazine. We took great pleasure in handing out copies to visitors.
The Abaco booth was very busy throughout the show. We focused on Electronic Warfare, and demonstrated a VPX370 3U VPX System designed to support the development of digital RF memory (DRFM), synchronous multi-channel MIMO systems and software defined radio (SDR) applications, among others. The system featured both a VP881 FPGA Carrier/FMC120 FPGA Mezzanine Card. Also on show was the VP430 RFSoC board, based on unique technology from Xilinx (who were also at the show). The VP430 was running our AXIS advanced multiprocessor software development environment. Additionally, we had the chance to demonstrate our as yet-unannounced Health Monitoring Toolkit.
All in all, an excellent and very worthwhile day. Our thanks to our partner Avdor for helping to make it such a success.