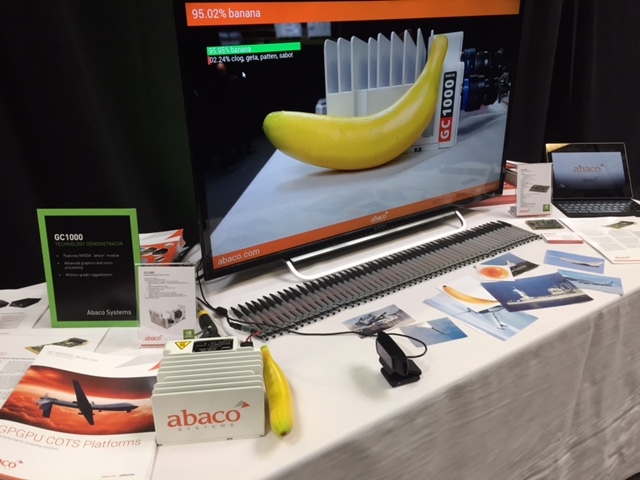 Yesterday, we were with NVIDIA at the Jetson meet up in San Francisco where the updated TX2 system-on-module (SoM) was launched. This upgrade to the TX1 module (launched in 2015) has improved Pascal GPU cores as well as an updated ARM CPU bringing the core count up to six. All of this increased capability comes with greatly reduced power with the SoM consuming 7.5 watts (MaxQ for maximum efficiency) 15 watt (MaxP for maximum performance).
Abaco's TX2-based rugged small form factor (SFF) solution was on display, performing image recognition (our famous "banana demo") on a live HD video stream. This demo—based on the imagenet dataset—is trained to recognize a thousand different object types. Due to be released later this year, Project Elroy will expand the TX2 module's capabilities with expanded I/O options for use in military and avionic applications as well as harsh industrial environments.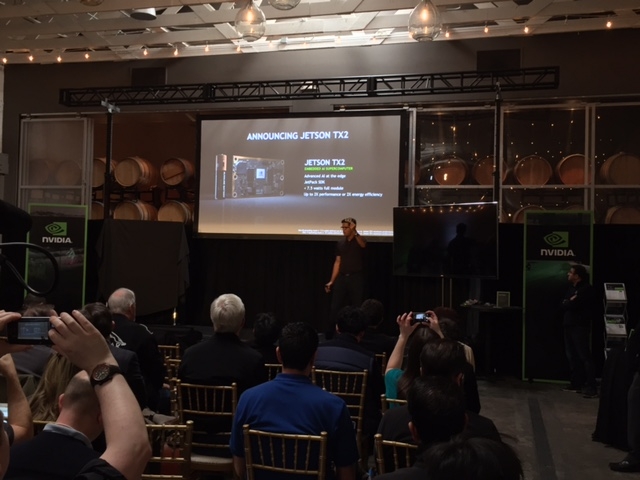 NVIDIA TX2 SoM specifications:
•    NVIDIA Pascal, 256 CUDA cores (Up to 1.3 GHz)
•    HMP Dual Denver 2/2MB L2 + Quad ARM® A57/2MB L2 (Up to 2 GHz)
•    8 GB 128 bit LPDDR4 58.3 GB/s
•    PCI Express Gen 2 - 1x4 + 1x1 OR 2x1 + 1x2
•    32GB eMMC, SDIO, SATA
•    1 Gigabit Ethernet
Other NVIDIA partners were also present, exhibiting TX1- and TX2-based vision and deep learning systems ranging from robotic medical assistants, medical retinal imaging and diagnosis, lightweight drones, 3D scanning,  AR/VR, 360 degree 4K  video stitching and automotive.
Along with this new module, NVIDIA is releasing an upgrade to Jetpack 3.0. This release includes support for the new module with Linux kernel 4.4, Visionworks, TensorRT, Vulcan and OpenGL.