Three Ways Modular Embedded I/O Can Optimize Your System's Performance
---
Today's engineers developing embedded systems often deal with a laundry list of I/O tradeoffs and challenges. What digital I/O? How many serial ports? Will I have to sacrifice an extra slot to fit the I/O I need? Eventually, decisions about I/O need to be made—and they can have a serious impact on the performance of the final system.
The modular approach to embedded systems has seen a steady adoption in many applications—from test and measurement to radar and electronic warfare—using architectures like PXI, 3U VPX and FMCs. However, many systems still need slower I/O, such as static DI/O and RS232 ports. These basic functions are somewhat commodity and as such there is a drive to reduce size, weight, power and cost of these pieces—all while increasing customizability.
The Micro Mezzanine System (MMS) from Abaco provides a modular embedded I/O approach that can help address the need for more configurable embedded I/O options. Here are three ways modular embedded I/O like the MMS can help optimize your system's performance.
1. Increase I/O density.
The MMS is a module-on-module architecture, giving engineers the ability to build a custom I/O solution on a COTS form factor without the headache of lengthy custom development. The MMS8010, for example, allows customers to fit up to six Electrical Conversion Modules (ECMs) on one 3U VPX carrier. ECMs are like I/O personality tiles—each one can be different. In addition to helping maximize the performance of a system, the ability to increase I/O density in a slot also enables customers to optimize their slot usage.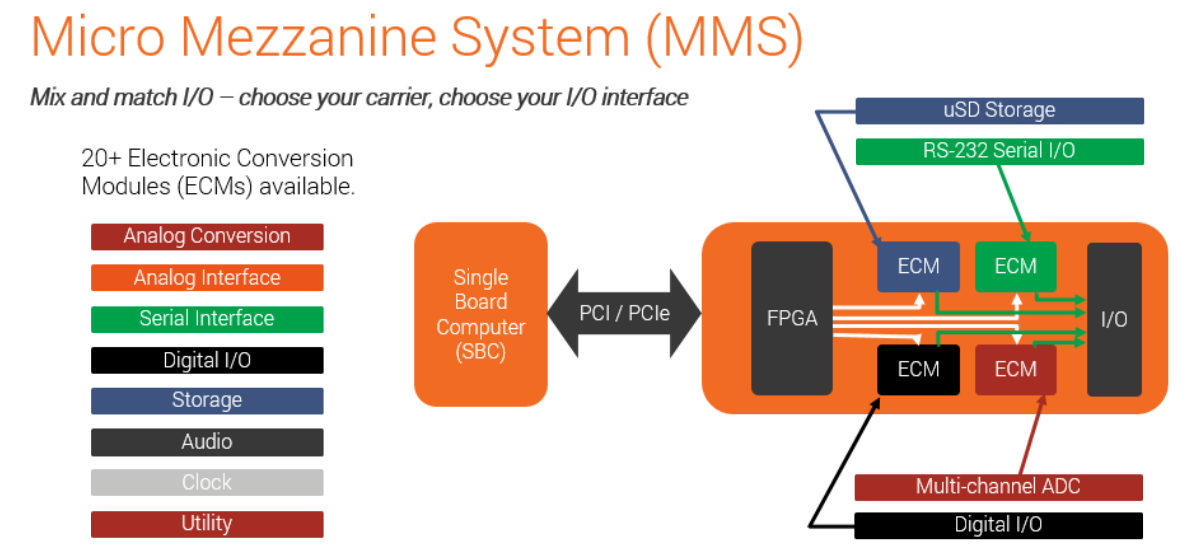 2. Optimize your slot usage.
An MMS carrier can host between four and six ECMs to map from an FPGA to a wide variety of interface formats. This allows you to have interfaces such as RS232, digital I/O, 10MHz ADC, and an analog comparator—all on a single card. Before MMS, such an I/O mix may have required three or four boards. Now, all of this can be snapped together like building blocks onto a single carrier and mated with a single board computer—enabling you to put those extra slots to good use.
3. Reduce the size, weight and power of your solution.
I recently had a discussion with an early adopter of the MMS6245. They needed a high performance ADC/DAC and were looking at our VP880 with the FMC170 as the core DSP function of their system. However, they needed a slower speed analog I/O to set RF gain as well as DI/O and serial ports for integration with an inertial navigation system (INS). Using the MMS6245 as the slower speed embedded I/O component, the final system went from a 4-5 slot 3U VPX solution to a 2-slot solution.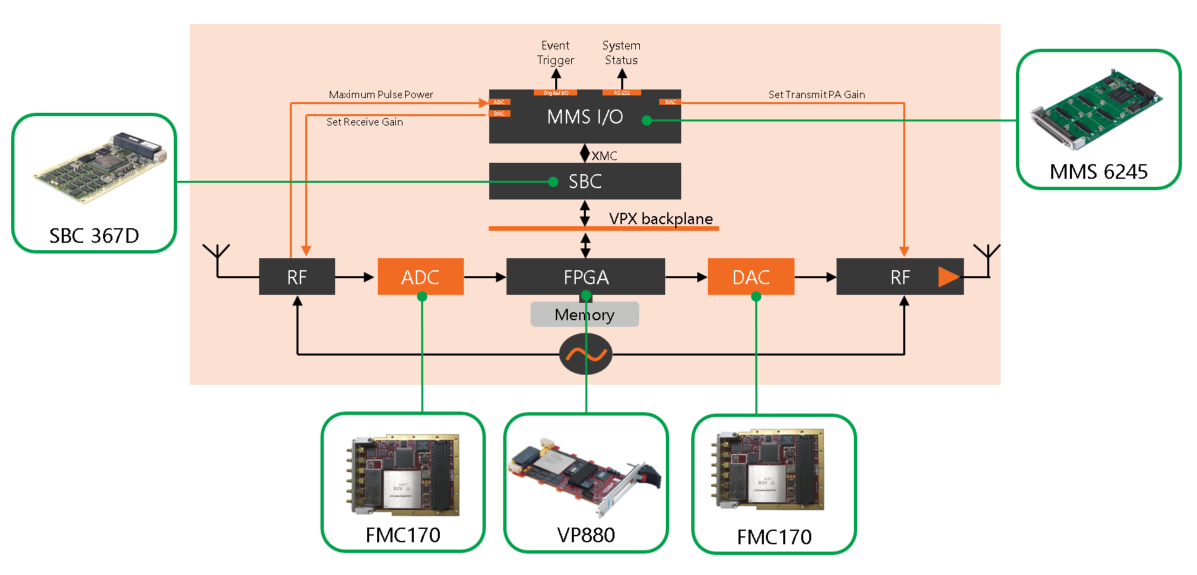 Stories about how we are helping our customers to do more with less and push the envelope of what is possible with COTS solutions is what motivates us here at Abaco. We believe that the modular approach to embedded system design is here to stay, and we're excited to see how technology like MMS will further enable our customers to push limits of technology with COTS solutions.
The main image is a work of a U.S. military or Department of Defense employee, taken or made as part of that person's official duties. As a work of the U.S. federal government, the image is in the public domain in the United States.
---