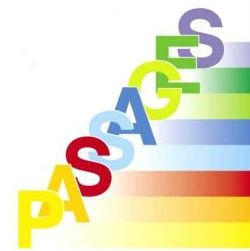 A few years ago, I thought I had reached somewhat of a conclusion about humanity's prime motivation – which is the leaping over of boundaries. Like the much heralded book Passages by Gail Sheehy published in 1976, I had the notion that we live in compartments at different stages in our life and at some point feel the need to break out of those compartments and progress to a wider domain. The sequence goes something like: womb, crib, room, house, yard, school, independent person. The concept expands to society as well, and can be traced back to pre-history as the migration of our species into far ranging areas (and even today with our desire to expand spaceward, conquering the boundaries of our only life-sustaining planet).
What I have come to realize, though, is that it is not the escape from our compartment that drives us; it is the desire to be included in a larger domain, and inclusion is a deep human need.
While this all seems philosophical mumbo-jumbo, I believe this point of view has real implications in the way we conduct ourselves in our personal and professional affairs.  I believe that, to one extent or another, everyone is seeking inclusion. Consider this in your own personal life as you wish, but this blog post looks only at how inclusion relates to how we operate professionally.
When $100 million was real money
I am reminded of some work I did years ago. Without disclosing a lot of needless detail, it was a program that ultimately rendered to our company over $100 million in revenue (which was real money in those days). As you might imagine, it was highly competitive and we were certainly not in a favored position (the front-runner competitor being another division of the customer company). Perhaps more distressing was that our offer was less technically advanced and not even in production.
How did we win?
Well, the competition was long and hard, so we had quite a long time (four years in the end) to develop the close customer intimacy that provided the knowledge needed to produce a compelling offer.
Let me pause here and say that "customer intimacy" is a term we bandy about a lot and we all think we know what it means. The truth of it is: this term means something different in each relationship, but what it always demands is inclusion - inclusion of the customer in your domain and your inclusion in theirs. Simply stepping over the boundaries that separate those domains is easy; being included in them is not. It takes more than corporate slogans, processes, PowerPoint slides and LinkedIn. It is personal commitment and a determination to share in the problems, and jointly enjoy the reward of those solutions, with the customer.
So back to the story. From the outset, one thing was made clear; the platform was in trouble and needed an upgrade to stay viable to new threats. New competitors – who were better funded - were prepared and hungry to snatch this (what amounted to a billion dollar) business away from our customer. There was no requirement – only a need. But it was a big need: the solution needed to be so good that it would erase the benefit of any competing platform. So: here was the defining moment. To be successful, we were going to sign on to part ownership of the big problem.
"The best proposal I have ever read"
This is inclusion. As we worked through the various hurdles of specs and live demos, analyses and reports, we opened our facility to the customer; we spent time explaining our processes; we exposed them to our way of doing business; we demonstrated our commitment and our ethics. We generated a proposal that in the words of the NAVSEA PM was "the best proposal I have ever read."
But the most poignant moment came when I was asked by the chief engineer, just prior to an oral presentation to the customer's CEO, "I have to ask you Larry, what will you guys do if there are problems down the road?"
My answer was clear, and stated without hesitation because I truly felt our company's commitment. "You mean when, not if," I said. "This has never been done before so we both know there will be problems, but when they happen, we will beat them."
We were awarded. And yes, there were problems and yes, we did beat them. Today (nearly 20 years later) this customer still calls me because I, and the company for whom I work, are included.
A powerful offer jumps boundaries - but personal commitment and delivering on promises is what makes for true customer intimacy.
Want success? Seek inclusion.