GTC: The Excitement Mounts
---
Yesterday found us at the San Jose McEnery Convention Center, setting up our booth—#321—for GTC, NVIDIA's GPU Technology Conference. The booth is looking great, and all the demonstrations are up and running. One of those demos is our deep learning inference demo—using the power of NVIDIA's GPU technology for challenging AI applications. You can see from the picture, we set up a camera during setup—and the demo recognized a forklift truck with 99% certainty.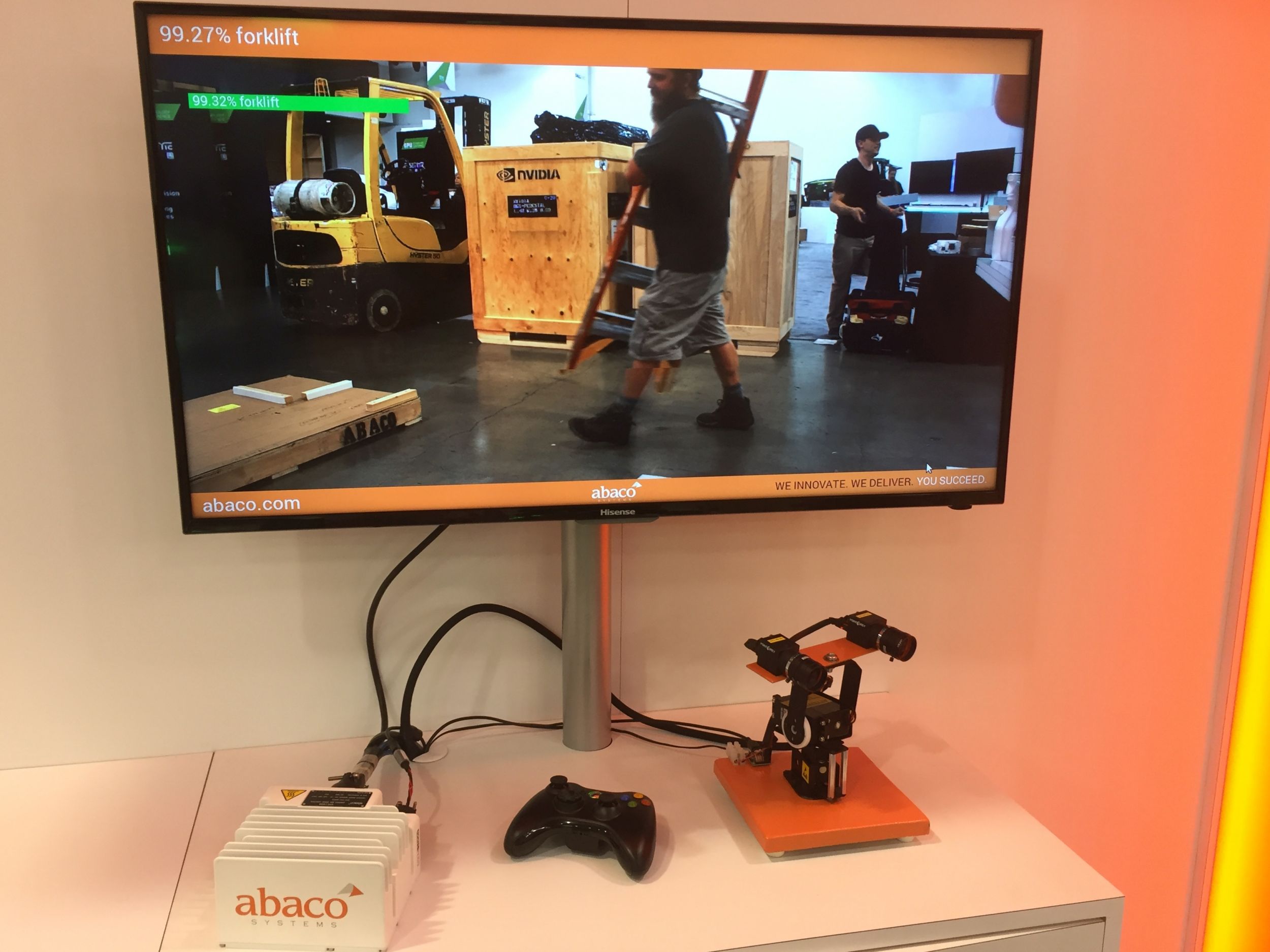 We're also showing off ImageFlex, a very cool software toolkit we announced a couple of weeks ago at Quad-A. ImageFlex is designed to make it easier and faster for developers to harness the incredible capability of GPU technology to deliver applications like real-time image processing and image visualization, but not have to worry about the underlying detail. Faster development, test and debug means you can get applications deployed in about a fifth the time it would take without a tool like ImageFlex.
Ideal complement
The hardware we're using for our demonstrations—and to which ImageFlex is the ideal software complement—is what we've been referring to for the last few weeks as Project Elroy. Part of our excitement in being at GTC is that, on Wednesday at noon Pacific Time, Project Elroy will be announced as an official product with a combination of processing performance, connectivity and minimal SWaP that's like nothing else on the market. Watch this space!
We may have been setting up on the show floor, along with many other exhibitors, but the conference is already under way with sessions already taking place. I'll be delivering one of those sessions on Thursday at 9:00am in room 210A: if you're in town, stop by and hear me talk about that new product, and about how we're enabling our military customers to leverage the massive capabilities of NVIDIA's GPU technology for graphics/video applications as well as AI applications.
Tomorrow—Wednesday—a must-attend event will be the keynote address by NVIDIA's CEO Jen-Hsun Huang. His presentations are always stimulating and insightful as he talks about his vision of the future, and the role his company will play in it. If you can't catch it live here in San Jose, it's being streamed via the NVIDIA web site.
---