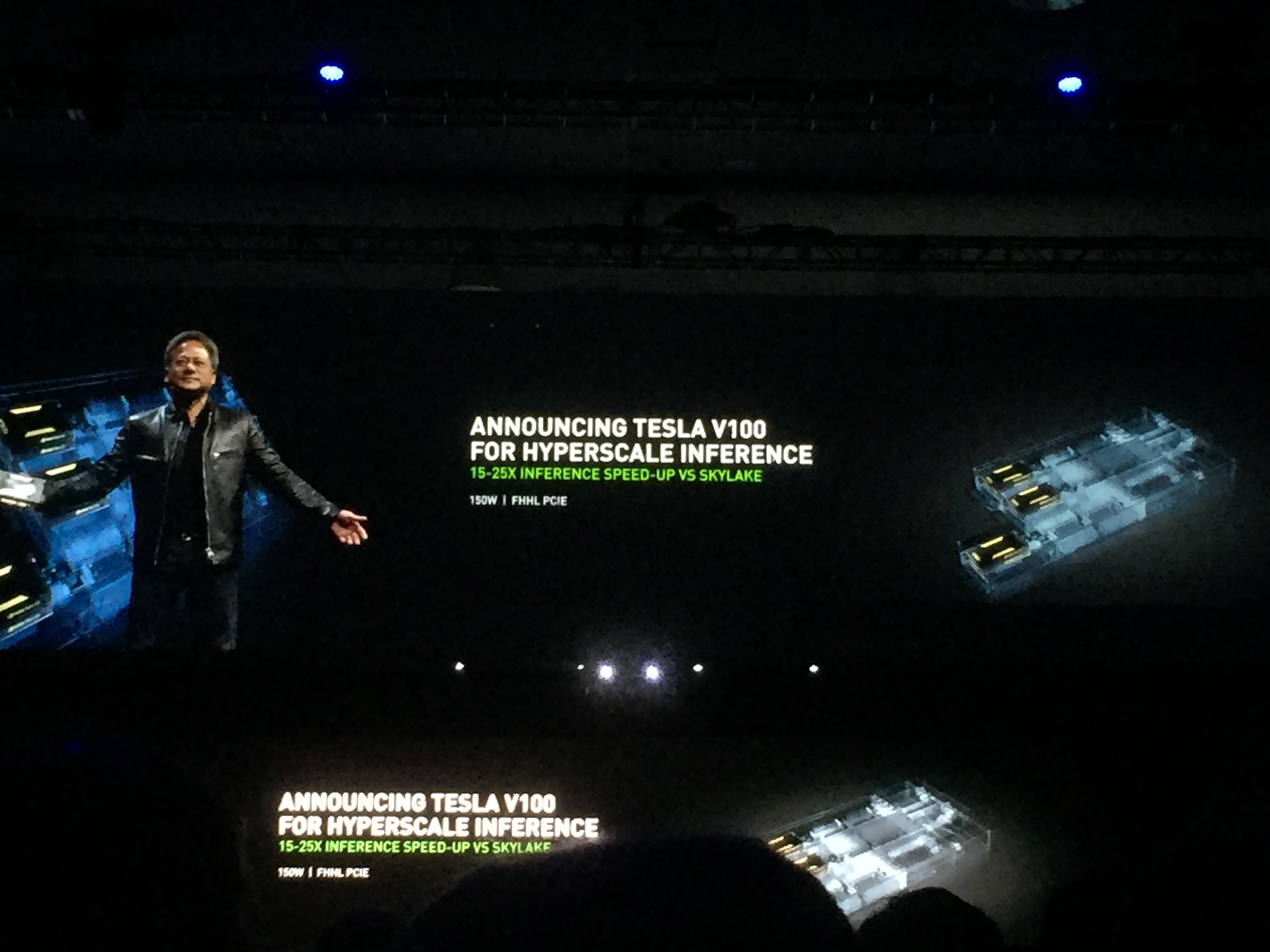 It was an early start on Day 3 of the GTC Conference in San Jose to get a good seat at the keynote speech given by NVIDIA CEO and founder Jensen Huang. There was a dramatic start to the keynote with an introductory video about the advances in AI, accompanied by an all-AI composed orchestral sound track. The theme was "Powering the AI Revolution" and Jensen took to the stage in his trademark black leather jacket.
There was a live 3D virtual demo with Christian Koenigsegg (in Sweden) as they interacted with a new hypercar in real-time using a holodeck-style simulation rendered in real time. Every inch of the car is modelled in virtual space as the robot-like avatars wandered around it in VR space.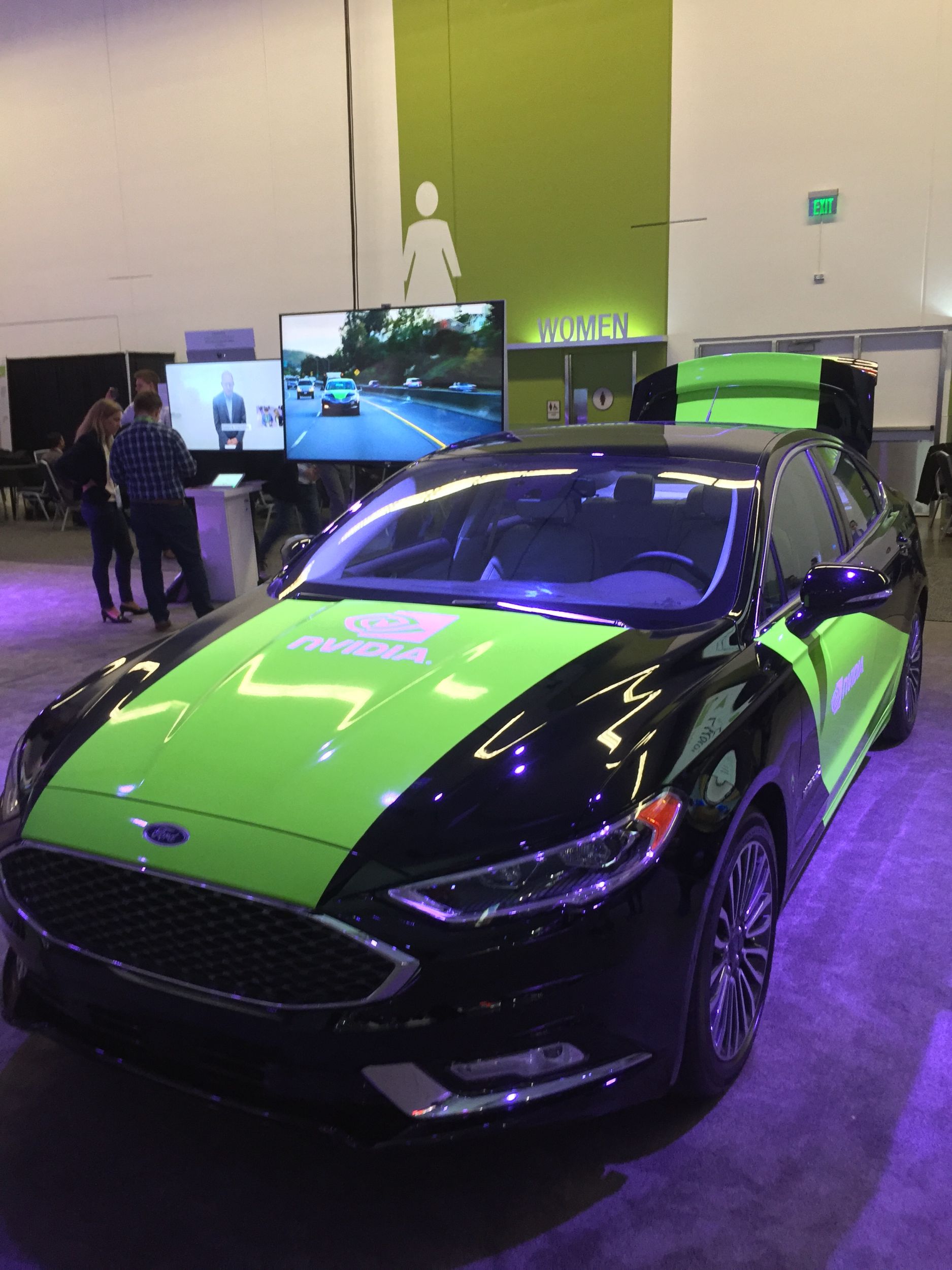 Jensen introduced the Tesla Volta V100, made on TSMC's 12nm finFET process, at the limits of photo lithography. It has 5,120 CUDA cores, delivering 120 TeraFLOPS of performance enabled by a new processor called a Tensor Core. The fact that this can even be manufactured is extraordinary, he said.
Matt Wood, GM of deep learning and AI for Amazon Web Services, joined Jensen on stage to discuss innovations in delivering GPU in the Cloud. Amazon has been working on AI for nearly two decades, and it's helped define new experiences like Echo, Alexa and Amazon Go.
Jensen also announced the NVIDIA DGX-1 with eight Tesla v100 labeled on the slide as the "essential instrument of AI research." What used to take a week now takes a shift: it replaces 400 servers. The DGX-1 offers 960 Tensor TFLOPS, and will ship in Q3 at a cost of $149,000. He noted that, if you get one now powered by Pascal, you'll get a free upgrade to Volta.
There was also a small version of DGX-1—DGX Station (see picture)—for $69,000 shipping in Q3. There's also another flavour of Tesla V100 that comes with HGX-1, which is specifically for GPU Cloud computing.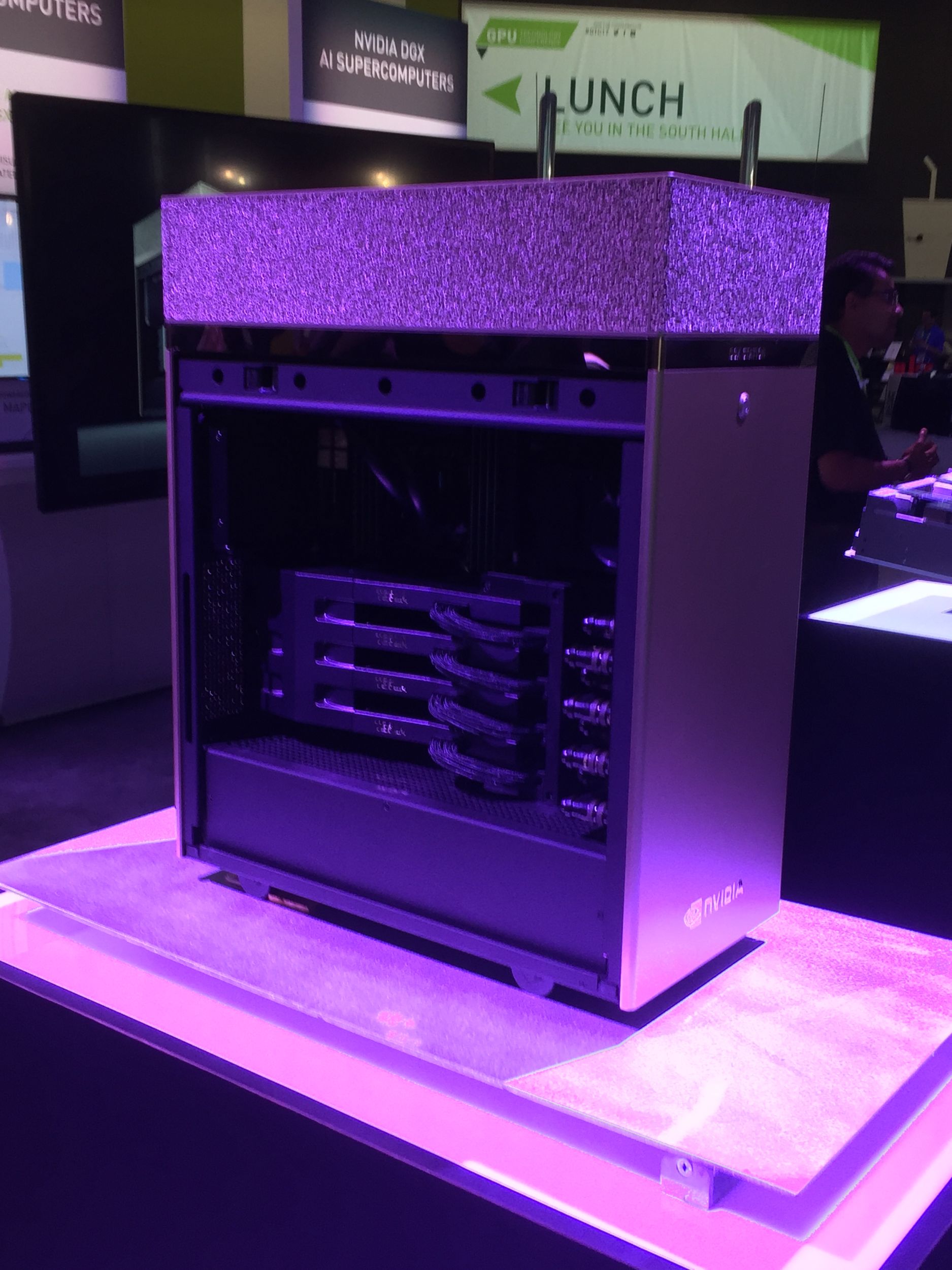 Amazing breakthroughs
Jason Zander, corporate VP of Microsoft Azure, was the second guest to join Jensen on stage; Jason had skipped part of Microsoft's BUILD conference to be there. Microsoft has made amazing breakthroughs with DL—particularly in natural language processing and translation and with ResNet—and has partnered with NVIDIA for over 20 years.
Jensen also announced TensorRT—RT for run time—for TensorFlow. It accelerates training by 12x and inferencing by 6x. This powers inference at the edge and can be seen running at the show on Abaco's GVC1000 image recognition demonstration, trained using ImageNet.
The last big announcement was that Toyota has selected NVIDIA for its self-driving vehicles. Toyota is one of the largest companies in the world and is working with NVIDIA's engineering team to create its autonomous car and put it on the road in the next few years.
This year's show is bigger than ever, and with 25 new VR start-ups in attendance and over 80 AI start-ups, it's clear that few industries will remain untouched by AI and CUDA technology.
Back on the Abaco booth after the keynote, we had some great interactions not only with our traditional military customers but also with customers wanting to put NVIDIA technology in other harsh environments—from submersibles to trains and border security. With one more day to go, this year's show has been very interesting and our ImageFlex and deep learning demo generated a lot of interest and discussion.
We finish up today—and then we start our planning for GTC Europe in Munich in October.