Encouraging the Young (and Female) Engineers of the Future
---
For over 10 years, Abaco's Towcester, England facility has been part of the Northamptonshire Engineering Training Partnership (NETP) which provides BSc Engineering students with work placements for a year.
We've benefited from this with many good students coming through. In fact, we've employed four students on a full time basis after their placements.
Four years ago, through NETP, I met Neil Patterson. He was previously chief engineer for McLaren Automotive on the P1 road car, and had just accepted the post of principal of Silverstone UT, a new technical college for engineering students based at the heart of British motorsport. It's designed as a center of excellence for young people wanting to enter the specialist fields of high performance engineering and business and technical events management.
He immediately had my attention. I could see how this venture was, in effect, a breeding ground for the engineering talent of the future—the people who will be essential to our future success. It's always been a passion of mine to try to get the average working age down on our Towcester site—and, in fact, in engineering in general.
I recall how, a number of years ago, I created a report for the company that showed the average age of our workforce. Back in 2010, it was 47 years old, with only 11% in the age range of 17–30, and 89% between 31–65. That's very typical of a lot of engineering companies throughout the UK.
It wasn't hard to convince my colleagues at Abaco that we should be working with Silverstone UTC, of which we're now a proud sponsor. We're building a strong relationship with the center, and ultimately hope to see graduates from there go on and become the engineers of our future.
All of which is the story behind why I, along with one of our manufacturing engineers, Kate Pooley, was at the UTC last week. We were asked to sponsor an award at its annual presentation day—a big event for the UTC that means a lot to both the students and the staff.
There were numerous awards sponsored by some very high profile companies from the motorsport industry, including Mercedes AMG Petronas F1, Red Bull Racing, Renault Formula 1, McLaren Automotive and Manor Racing. GM company Vauxhall was a large contributor too, along with many other local companies.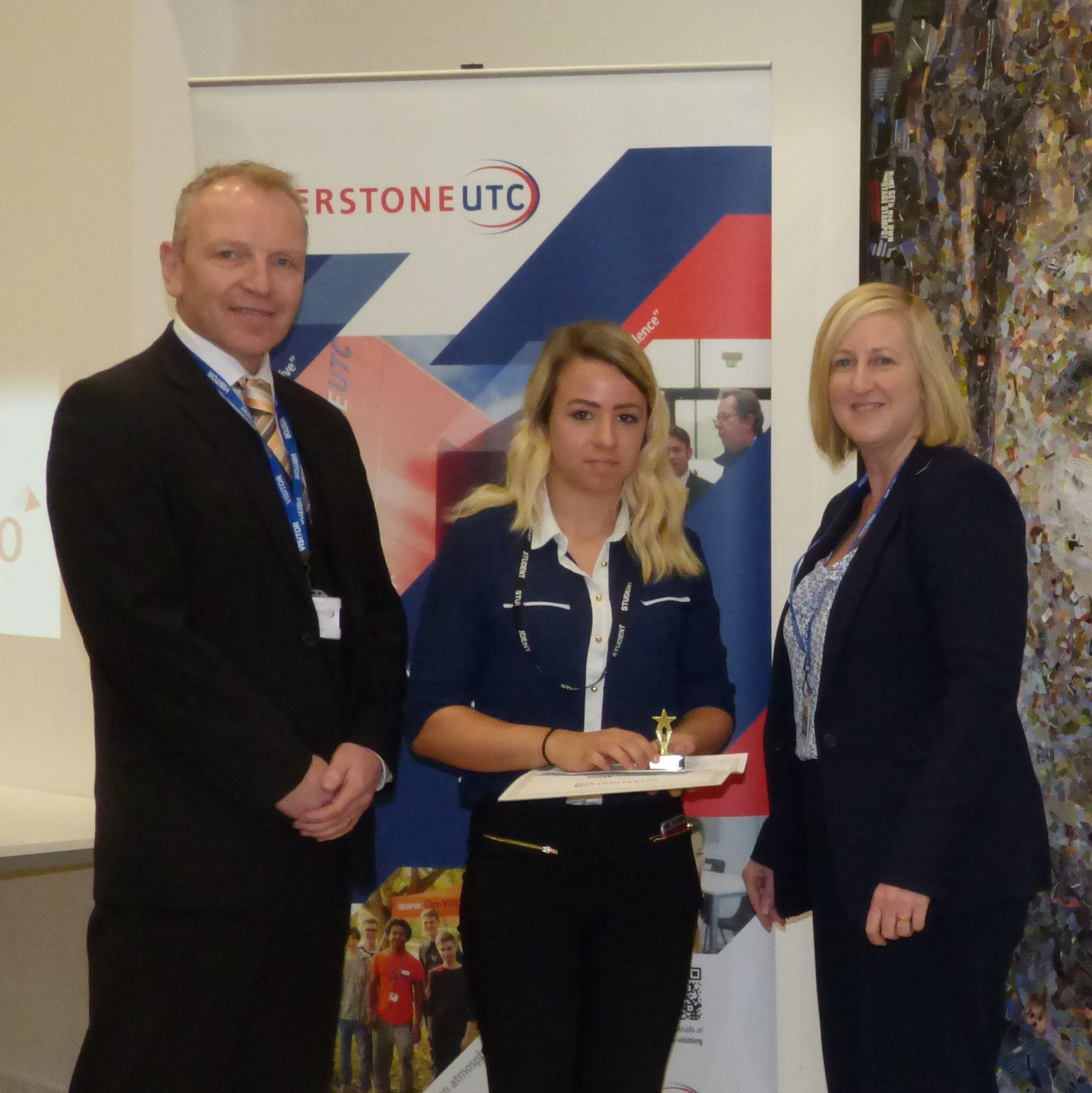 Kate and I with Shanice Mott, the winner of the "Ambassador for Young Women in Engineering Award."
Kate and I were invited to present the award for the "Ambassador for Young Women in Engineering Award" to Shanice Mott. You can see the three of us (L–R: myself, Shanice, Kate) in the picture. According to Neil Patterson, Shanice was selected not only for being a great scholar, but also for the role she has played in developing and promoting the UTC.
I was delighted to be asked to give this award as it chimes nicely with our involvement with WISE (Women In Science And Engineering) which sets out to dispel the myth of engineering being somehow an "oily rag" male-dominated profession and to encourage girls and women to get into engineering. That initiative has seen a 15% increase in female students on the BSc degree courses at Northampton University.
At Abaco Towcester, we still have some way to go in getting our young and/or female engineer numbers to where we'd like them to be. But, with the likes of Shanice hopefully wanting to have a career in the industry, I'm confident things will change.
The presentation day at Silverstone UTC was a great event, and very inspirational to see so many talented students rewarded for their efforts throughout the year. We're looking forward to being there next year.
---