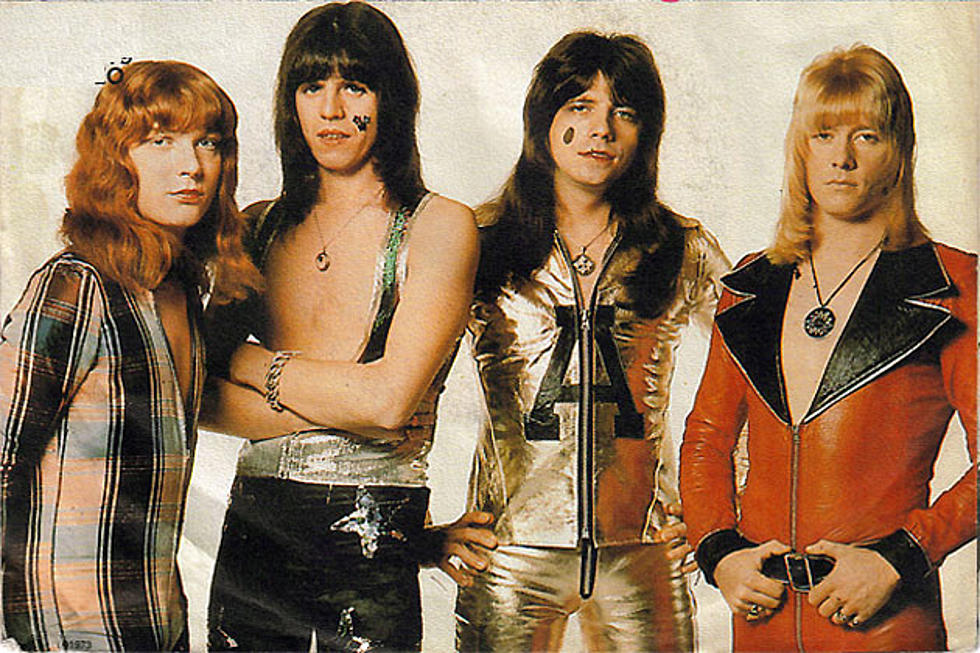 "To Blog-busterrrrrr!" Ah, yes: more 1970s music puns – this time, 'glam rock' band The Sweet's 1973 hit "Blockbuster". (You may never have heard of it: while it reached number one in the UK, it made only 73 in the Billboard Hot 100). We're in familiar territory already for my first blog of the new year - and decade.
I find my mind wondering about those two years -1973 and 2020 - with respect to technology: the old and the new, vinyl and streaming, the physical and the virtual, the real and the artificial, the analog and the digital. It's mind blowing, what we've achieved in 47 years really (keeping to the positives!).
While all the new developments in technology have made our lives easier, and turned the previously impossible into the possible - lifted everything to a generally higher level of quality, if you like - sometimes there is just no substitute for that old crackling record, or a car that felt like you were doing 100 mph when you were really only doing 50. Real, visceral stuff – it just felt good! That is, right up until the turntable needle got stuck and killed the vibe or the car broke down in sideways rain miles from anywhere…
Rose-tinted
Such are the rose-tinted spectacles of nostalgia – but, of course, sometimes in the real world there are examples of where the old way is, in fact, a complete necessity. When, for example, we consider graphics/display computing or hemispherical situational awareness applications for land and avionics platforms, we can think of two broad categories: new platforms, and upgrades to older platforms. The former will take the latest and greatest wherever possible, while the latter often needs the latest processing performance to connect with older sensor and display realms already present on the older platforms.
Enter the NVP2102A.
The NVP2102A is a really cool yet powerful product that provides the best of both worlds: the capability to handle newer and older video I/O standards to accommodate both new and upgrade platforms (check) while boasting the latest NVIDIA GPU performance (check). So, like the recently launched NVP2000 and NVP2102, it packs a huge GPGPU performance punch on the small XMC form factor (up to 2.3 TFLOPS peak) with the NVIDIA Pascal P2000 chip-down GPU.
Support for old and new
But: let's get back to the old and new for a minute. You see, the NVP2102A is equipped with video I/O that can hook-up all that GPU performance to a variety of old and new camera standards and old and new display standards. So, for example, if you need to capture and interface to the latest 3G serial digital interface cameras and displays the NVP2102A has you covered with four 3G-SDI inputs and two 3G-SDI outputs. If, however you need to capture and interface to older cameras and displays as part of a platform update, the NVP2102A has this covered also with two NTSC/PAL inputs and two SL-DVI outputs. Or indeed, if you need to output and interface to the latest DisplayPort displays then the NVP2102A can provide two DisplayPort 1.4 outputs instead. And, just in case that wasn't enough, the NVP2102A also has audio covered off with two audio inputs.
Remarkably, like the NVP2102, the NVP2102A fits all this on to the XMC form factor to offer this huge breadth of flexibility and performance to a wealth of vision and image process applications.
Compelling blend
They say hindsight is 20:20 – and, in this year of 2020, technology is accelerating ever faster into the future - and it is generally a great experience. But: we can sometimes forget the need to look back and take account of where backwards compatibility is often an absolute necessity. As you can see, that's not so the with NVP2102A. It provides a compelling blend of the latest generation NVIDIA embedded GPUs with both latest deployed video I/O standards and also recognizes the need to hook-up to the older world that has a huge installed customer base to provide an easy upgrade path and breathe new life into those upgrade systems too. Yes, the NVP2102A is a real Blockbuster of a product for both new and existing customers.